Description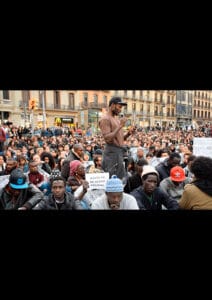 The image of Barcelona is characterised by a cosmopolitan touristic life, long term gentrification processes and progressive political perspectives, as for example for the welcoming of refugees and migrants. In order to find out to what extent the self-drawn image of Barcelona as a 'Refugee City' reaches the realities of the lives of the people affected by the European border regime, this ethnographic documentary focuses on the local political strategies which define and regulate the treatment of migrants. Further, it shows the alarming deficits and precarious living situations of those who have come in search of more humane living conditions and how, due to The Immigration Law, most of them spent years without the perspective of a right to stay or a work permit.
Due to a one-year-and-half anthropological research with a collaborative approach, this documentary gives a deep insight into the everyday life, functioning and networking of diverse migrant communities and documents their persistent fight against the prevailing racist power relations.
It consists in the presentation of the self-organized Union of Street Vendors of Barcelona, the human rights initiative 'Tanquem els CIEs' which fights for the closure of Immigrant Detention Centres across Spain, the campaign against racial profiling 'Parad de Pararme', the collective 'Frontera Sur' which accompanies refugees after their arrival at Spain's southern border and in their asylum process, and the self-organized migrant-and-refugee-protest 'Encierro Migrante' which occupied a former Art School in Barcelona in order to reach out to the local politicians and fight for their human rights. These collectives have been involved in the research, shooting and editing-process of this ethnographic documentary film, which aims to show the social struggles in the face of institutional racism from a BPOC and migrant perspective.
---
Director Biography – Christin Schuchardt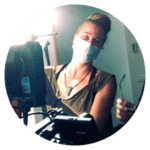 Christin Schuchardt, born in Erfurt/Germany in 1990, studied Anthropology and Gender Studies at the university of Göttingen. During her master in Visual Anthropology she produced her first short film called "Iduna-Komplex" (2016) and found her passion for filmmaking and nonfiction storytelling. In the past two and a half years she focussed on producing her first mid-length documentary "Barcelona – A Welcoming City" (2021), an independent and participatory ethnographic film about the persistent resistance of five BPOC and migrant collectives in the face of institutional racism. She is currently living in Barcelona, working as a freelance translator and dedicating every free minute to filmmaking and climbing.
---
Credits
Christin Schuchardt
Director
Christin Schuchardt, Andrés Díaz
Writer
Christin Schuchardt
Producer
Nebon Babou Bassono
Key Cast
Lamine Bathily
Key Cast
Kaire Ba Dejuan
Key Cast
Mercè Duch
Key Cast
Victoria Canalla
Key Cast
21 Aerials
Camera
Najib Abidi
Camera
Panayiotis Achniotis
Camera
Marc Almodóvar
Camera
Mohammad Alsharqawi
Camera
Raquel Rei Branco
Camera
Alejandra Caballero
Camera
Sònia Calvó Carrió
Camera
Andrea Moreno Ciriza
Camera
Oriol Daviu
Camera
Andrés Diaz
Camera
Andrés Ávila Escobar
Camera
Pedro Mata
Camera
Carlos Martín-Peñasco
Camera
Zala Opera
Camera
Marta Saleta
Camera
Christin Schuchardt
Camera
Christin Schuchardt
Edit
Andrés Díaz
Edit
Tommy Leb
Mixing and Mastering
Andrés Díaz
Colour Grading
Hannes Wittmer
Music
Clara Jochum
Music
Andreu Comas
Translation to English
Jenny Dinwoodie
Translation to English
Sheila González
Translation to English
Sofía Puertas Martin
Translation to English
Christin Schuchardt
Translation to English
Jenn Stoll
Translation to English
Marta Sveinbjörnsdóttir
Translation to English
Clara Rodriguez Arasans
Translation to German
Virginia López Bernabé
Translation to German
Vera Burkhardt
Translation to German
Sofía Puertas Martin
Translation to German
Juan Escribano Navarro
Translation to German
Llanquiray Painemal Morales
Translation to German
Christin Schuchardt
Translation to German
Assma Assoumani
Translation to French
Garazi Ateka
Translation to French
Nebon Babou Bassou
Translation to French
Lea ColsónTranslation to French
Catalina LaCalva Domínguez Castelló
Translation to French
Lucile Doussin (Elvis)
Translation to French
Remi Gouget
Translation to French
Noel Mata Casanova
Translation to Catalàn
Mercè Duch
Translation to Catalàn
Anna Galí
Translation to Catalàn
Laura OC
Translation to Catalàn
Xavier Muñoz Lannes
Translation to Catalàn
Christin Schuchardt
Translation to Catalàn
Ruth Gozalbo
Translation to Catalàn
Garazi Ateka
Subtitles
Virigna López Bernabé
Subtitles
Guerilla Media Collective
Subtitles
Remi Gouget
Subtitles
Christin Schuchardt
Subtitles
Tommy LebSound
Editing
Christin Schuchardt
Sound Editing
---
Specifications
Project Type: Documentary, Feature, Student, Television, Web / New Media, Other
Runtime: 55 minutes 30 seconds
Completion Date: March 1, 2021
Country of Origin: Germany
Country of Filming: Spain
Language: English, French, German, Spanish
Shooting Format: Digital
Aspect Ratio: 16:9
Film Color: Color
First-time Filmmaker: Yes
Student Project: Yes – Georg-August-University Göttingen