Description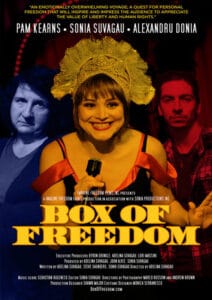 In the still-harsh world of post-Communist Romania, 'comedic companion', Dora is a defiant, mirthful beacon for freedom.
In the turbulence after the fall of the Berlin Wall, many Eastern Bloc countries are filled with hopes for a brighter future. Dora (32), a Romanian comedienne is trying to live in this new world, but she is gaining notoriety for the wrong reasons. Physically abused and threatened, for her political comedy, Dora is forced to become an escort to those who have remained in positions of power and influence. She stumbles upon some dangerous secrets and, as a result, is threatened and forced into prostitution as an escort. Realizing her life will soon be ended by orders of some oligarch, she decides to flee the country by illegally locking herself in a shipping container; destination – Canada. Using humor to distance herself from the harsh reality Dora writes and performs comedy for the other two passengers in the container. This 'sea can' will become her world for the next weeks, a 'box of freedom' inside which Dora will live along her hopes and dreams. It is a box-in-box situation: a box of the imaginary, where everything is possible but not actual, locked inside a box of the real, where almost nothing is possible, but where the sorry excuse of a life is palpable.
Innovative and surreal, Box of Freedom takes us on a journey of discovery that only desperate refugees attempt.
---
Director Biography – Adelina Suvagau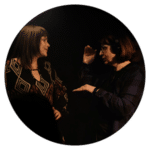 Adelina Suvagau is an award-winning documentary and Television Producer and Director.
In 1995 Adelina moved to Vancouver from Romania, with her husband and daughter Sonia Suvagau, and founded Sonia Productions Inc in 1998.
CBC, City TV, Vision TV, One and Joy TV broadcasted Adelina's documentary and documentary TV series.
Adelina Suvagau received in 2012 for the "Return to Byzantium-The Art and Life of Lilian Broca" documentary the Best Documentary Award at San Pedro International Film Festival, Los Angeles, California.
Box of Freedom is Adelina's first feature and was developed with the support of Women in Director's Chair, from Vancouver, Canada.
Between 2006 and 2015, Adelina Suvagau acted as the National Representative and the Professional Development Director for the Documentary Organization of Canada, BC chapter.
Between 2015-2016 Adelina Suvagau acted as the President of Cineworks, an artist-run production and exhibition centre that supports independent filmmakers and media artists.
---
Director Statement
In 1995, I emigrated from Romania to Canada with my husband and our daughter. While we did not have to smuggle ourselves in a container on a dangerous journey across the Atlantic we still experienced a similar journey into a land more free.
Oftentimes we have felt as three sailors on a boat, with the rest of our family back in Romania. The dynamic quality of three is something I am very familiar with and allowed me to explore a triangular approach to the character interactions in "Box of Freedom".
The role and responsibility of parenthood is a constant theme in "Box of Freedom" which is part of the reason I have chosen to collaborate with my daughter Sonia Suvagau in the creation of this film.
Sonia and I have always been very close and our different generational influences and approach have proven us to be a great collaborative team for many successful films. We are enjoying working together yet again on this project and feel a very strong connection to it.
Box of Freedom is both a socio-political statement and a psychological introspection. It is a socio-political statement because the film's very subject deals with a global phenomenon that currently, seems to become more intense on a regular basis: refugees; it is a social statement because it discusses sexual abuse as a power play, as a humiliating and life wrecking game; it is an introspection because Box of Freedom follows the trajectory of a refugee not only physically, but also mentally.
As a Director I used sarcasm and irony to create a series of surrealist scenes that throw the viewer into the mind of Dora whose emotions, reason, and contact with the reality are stretched up to the limits.
Some scenes play out on a comedy club stage which represents Dora's inner world. This approach allowed the flexibility to move away from a linear format and to structure the narrative in a way that represents our main character's emotional and mental state.
The claustrophobia of the container is broken up through fantasy sequences adding to the film's hyperrealism and abstract symbolism. Some of the scenes are a projection in the container of Dora's past life events. Other scenes are horrifically exaggerated, carried out by our female protagonist's overactive imagination as she struggles to survive mentally and physically in the container for two weeks. The constant apparitions of her son propel her into forming a bond with her abandoned child.
Surreal images created through high-key lighting and bold colors choices in the Mise-en-scène, give the film a heightened sense of reality. The main character's subjective reality throughout the journey in the cargo ship container is reflected through the magnifying and altering of color saturation so that there is a clear distinction between moments that are more intensely experienced and moments where it feels more dreary, dark and gloomy.
The rhythm and pace of the film alternates between rapid and slow progressions, using this combination to guide the audience to a stronger emotional response. Audibly, the use of natural sounds and surprising sound effects and music cues will keep the flow more unpredictable and the audience on the edge of their seats. The tone and mood for "Box of Freedom" will vary from confrontational and humorous to reflective, personal, meditative and exhilarating.
The style of "Box of Freedom" is highly personal in relying upon our female protagonist thoughts, feelings and comments. It also stands back far enough to allow dark humor and playfulness to be conveyed through the stand up comedy Dora performs in the container.
As a Director I looked at the element of humor, and the vital role humor plays in the context of survival. I believe that it is through humor and imagination that people can find hope in the darkest of moments. Justifiably so, the film's main protagonist is a comedienne allowing us to bring comedy in at times that might otherwise seem inappropriate.
I truly believe that comedy and drama go hand in hand. When I experience comedy, I settle in and am more comfortable, which allows my guard to come down. It allows me to take in a story more openly and I believe this is the case for others as well. In "Box of Freedom" we follow three strangers confined in a container struggling to cope in their own ways but beneath that there is a deeper layer of psychological existence. Despite the different ways Dora, Alex and Gabriela act on the surface, they are all bound and imprisoned by fear and trauma.
One way of interpreting the film is to see all three characters as part of Dora's psychological makeup. Gabriela represents Dora's fear of breaking the law and is very rule oriented and proper. Alex is the rebel within her and her sexual desires. Dora mediates the tension between these two characters just as she would be tugged from one aspect of herself to the other. Gabriela is also a mother who has lost her son and Alex is a son who never had a mother adding further to Dora's guilt of abandoning her son and her feelings of inadequacy.
I am excited to complete Box of Freedom and to share this beautiful story of transformation with audiences. I believe we have a layered story that will deeply resonate with others especially at a time where we are experiencing so much uncertainty globally. We are confident that "Box of Freedom" will be a light of hope, courage and liberation.
---
Credits
Adelina Suvagau
Director
Return To Byzantium-The Art and Life of Lilian Broca
Adelina Suvagau
Writer
Steve Saunders
Writer
Sonia Suvagau
Writer
Adelina Suvagau
Producer
John P Alviz
Producer
Sonia Suvagau
Producer
Sonia Suvagau
Key Cast
"Dora"
Pam Kearns
Key Cast
"Gabriela"
Alexandru Donia
Key Cast
"Alex"
---
Specifications
Project Type: Feature
Runtime: 1 hour 26 minutes 27 seconds
Completion Date: February 16, 2021
Production Budget: 40,000 USD
Country of Origin: Canada
Country of Filming: Canada
Language: English
Shooting Format: RED
Aspect Ratio: 2:39
Film Color: Color
First-time Filmmaker: No
Student Project: No