Description
In 1932, the Empire of Japan invaded China, establishing the Manchurian Empire and celebrating the Five Races Under One Union. The Kwantung Army (Japanese armed forces in Manchuria) committed every conceivable atrocity in China and in Japanese colonies, including Korea. When the Soviet Union invaded in 1945, the Kwantung Army retreated, leaving its civilians behind. Many civilians were killed or left behind in China as orphans and widows. Chimera depicts the tragedy caused by people blindly following imperialism and militarism, as well as the negative heritage that continues to this day, as seen in the field research. We also see this in the exchange between the two officers of the Kwantung Army, reenacted by a forth-generation brother and sister who were displaced by the war. As young civilians, they experienced the full consequence of Japanese imperial hubris. Today, war-displaced individuals of the second and third generation are constantly faced with the difficulty of building different social relationships. They must constantly rebuild their narrative while expressing identities in various ways. Will the joint struggle with memories of the past be open to the future? As members of a new Japanese society, those who were war-displaced orphans are denounce at the way existing Japanese society works.
Video footage was shot at the former sites of buildings which housed Japanese nationals, as well as the terminal station (Huludao Railway Station) where Japanese emigrants arrived in Huludao, part of southwestern Liaoning Province in the Republic of China. The repatriation point where Japanese returnees first arrived was at Senzaki Port, Nagato City, Yamaguchi Prefecture.
Voiceover text sources are from Fumio Ishihara "Father of Manchurian Settler Communities – Colonel Tomiya and Kanji Kato" 1944. Voiceover is from a forth-generation war-displaced sister and brother in Okayama prefecture.
Kanji Kato
Kato forwarded the Manchurian Settler Communities with Tetsuo Tomiya, who was a Kwantung Army officer and adviser to the military administration of Manchukuo.
In 1938, Kato was involved in the establishment of the Volunteer Pioneer Youth Army of Manchuria and Mongolia. It produced 80,000 military volunteers.
Tetsuo Tomiya
Tomiya was a Kwantung Army officer who carried out the Manchurian Incident. Tomiya later became an adviser to the military administration of Manchukuo and served as a military instructor to the Jilin Province security force of the Manchukuo Army. Tomiya is the planner of the Tonkontai (Farmer soldiers who opened up new land in Japanese territories)
The title Chimera is taken from the book by Prof. Shinichi Yamuro, "Chimera—Portraits of Manchukuo". In the book, the chimera's head (a lion) symbolizes the Kwantung Army, the Body (a sheep) is the Japanese emperor system and the tail (a dragon) is Chinese emperor and modern China.
CREDITS
Direction,
Kounosuke Kawakami
Production Assistant
Shuya Masuda, Siyo Rin
Voiceover
Akiko Imaoka
Tomoya Imaoka
---
Director Biography –
Kounosuke Kawakami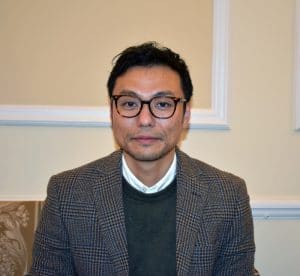 1979 Born in Yamanashi, Japan
2000 – 2003 Central Saint Martins College of Art And Design – BA Fine Art
2003 – 2004 Central Saint Martins College of Art And Design – MA Fine Art
2013 – Lecturer , Kurashiki University of Science and the Arts, Okayama, Japan
Director Statement
Solo Exhibitions
​
2017 Hegemony Here is Born in the Factory, Kotobuki Meeting, Tokyo
2017 Mizushima Complex "History of immigrant workers in Mizhusima" , Blanclass, Yokohama
2015 Dada-inspired performance and re-enactment of "Sanka Theater" , SuperDeluxe, Tokyo
2015 Dada-inspired performance and re-enactment of "Sanka Theater" (1925,Tsukiji Little Theater: 1927, Asahi Kodo, Tokyo), Institut français du Japon, Tokyo
2012 Beaty of Ruin, Identity Art Gallery, Hong Kong
2011 (H)allo-Poiesis, Daiwa Foundation, London, UK
2007 Migration, Houldsworth Gallery, London, UK
2006 Mindustrial Evolution, Bearspace Gallery, London, UK
Selected Exhibitions
2018 Visions in the Nunnery P3 Bedwyr Williams, The Nunnery, London
2017 Maebashi Media Festival, 旧安田銀行担保倉庫 西側, Maebashi, Gunma
2015 The Task of the Transla'tor', Goethe-Institut Japan, Tokyo
2014 Tag-ten, Matumoto art museum, Japan
2014 Japon, Abbaye Saint Andre Centre d'art Contemporain, Meymac, France
2014 Dualities 3, Identity gallery, Hong Kong
2013 OPEN 16, International Exhibition of Sculptures and Installations, Venice Lido – San Servolo Island
2013 Primordial Essence, Art Lab, Nagoya
2013 Double Message, Scai the Bathhouse, Tokyo
2013 All That Is Solid Melts Into Air : From Interactive To Interpassive, Gallery Momo, Tokyo
2013 Education, Education and Education, Zone, Kurashiki
2013 The Painter of Modern Life, Gallery Hiramine, Kagoshima
2013 Re-View, Identity Gallery, Hong Kong
2012 The Echo, Kunstraum Kreuzberg / Bethanien, Projektraum, Berlin, Germany
2012 BE/LONGINGS, Gazelli Art House, London, UK
2011 Camera lucida, Aisho Miura, Tokyo, Japan
2011 Beyond, Scai The Bathhouse, Tokyo, Japan
2011 VIP Art Fair
2010 Summer Show, Maddox Gallery, London, UK
2010 Cultural Detritus, Pippy Houldsworth, London, UK
2010 Voca Prize-Winning Work 2007-2009, The Dai-Ichi Mutual Life Insurance Gallery, Tokyo, Japan
2010 Sarcophagus of the Kingdom, I-MYU Project, London, UK
2009 Reconstructing the Old House, Rusking Gallery, Cambridge, UK
2009 Virtual Records, YOD Gallery, Osaka, Japan
2009 Reconstructing the Old House, The Nunnery Gallery, London, UK
2009 Barock Plastik, I-MYU Project, London, UK
2008 Marmite Art Prize, studio1.1, London, UK
2008 Twenty, Dazed and Confused Gallery, London, UK
2008 Echo, Zaimu, Tokyo, Japan
2008 Chicago Art Fair, Chicago, USA
2008 Pulse, Pier 40, New York, USA
2008 Voca Art Prize, Ueno Royal Museum, Tokyo, Japan
2007 Scope Miami, Miami, USA
2007 The Future Can Wait, Atlatntis Gallery, London, UK
2007 Hand In Hand, Japan Embassy, London, UK
2007 Year 07 Art Project, County Hall, London, UK
2007 Scope Basel, Basel, Switzerland
2007 Tech- Mach – Maya-Con, Myonichikan, Tokyo, Japan
2007 Selected by Victoria Miro, APT Gallery, London, UK
2007 Selected by Matthew Colloings & Emma Biggs, APT Gallery, London, UK
2007 Scope New York, New york, USA
2007 New London Kicks, Soho House, New York, USA
2006 Dynamic Entropy, Houldsworth Gallery, London, UK
2006 Tokyo Monamo, 43 South Molton Street, London, UK
2006 Synchro-Tron, Aqffin Gallery, London, UK
2006 Curious New Terrain, Nolias Gallery, London, UK
2006 10th Planet, Tower Bridge Business Complex, London, UK
2006 Chimera, 148 Gallery, London, UK
2006 Group Show, My Life in Art Gallery, London, UK
2006 Zoo Art Fair, London, UK
2005 Agoraphobe, Bearspace Gallery, London, UK
2005 What Happens When Everything is Reduced to Ones and Zeros?, Pearlfisher Gallery, London, UK
2004 The Horizon of Expectation The Empire Gallery, London, UK
Awards / Residencies
​
2010 Trainee under the overseas study program for upcoming artists of the Agency for Cultural Affairs, Tokyo, Japan
2008 Vision of Contemporary Art Prizewinner, Ueno Royal Museum, Tokyo, Japan
2007 Celeste Art Prize shortlist
2007 Creekside Open x 2, Finalist Selected by Matthew Collings and Emma Biggs Finalist
2007 Creekside Open x 2, Finalist Selected by Victria Miro Finalist
​Collections
​
Pigozzi Collection, USA
Elspeth and Imogen Turner Collection, UK
UBS Bank New York, USA
UBS Bank Los Angeles, USA
UBS Bank, UK
Taguchi Collection, Japan
Progressive Art Collection, USA
West Collection, USA
Wellington Management, USA
The Dai-Ichi Mutual Life Insurance Company, Japan
---
---
Project Type:Experimental, Short
Runtime:7 minutes 38 seconds
Completion Date:July 11, 2019
Production Budget:500,000 JPY
Country of Origin:Japan
Country of Filming:China, Japan
Language:Japanese
Shooting Format:Digital
Aspect Ratio:16:9
Film Color:Color
First-time Filmmaker:No
Student Project:No