Description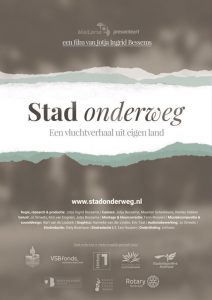 City on the Run is a refugee story about our own country. A film about a forgotten history and a failed memorial. About thousands of people on the run and the countryside inundated by the displaced. City on the Run is a personal quest about the effects of war on a human life and our willingness to help others.
Filmmaker Jotja Bessems uncovers a surpressed history of her family in a South Limburg border town. She finds her uncle in tears at an eternal peace vigil, unable to tell his life story. Her aunt who has never been able to sleep. A collector with a garage museum and, in his eigthies, still is a passionate teacher. Baby clothes pierced with shrapnel is the only memento of a woman who never knew her family. And a German man who has been carrying the weight of guilt since childhood.
City on the Run unravels the story of the evacuation of Kerkrade at the end of World War 2 and what it means to be forced to leave your home. Why does no one remember this historical event? And what is the effect on how we see the present?
After many anxious hours in the air-raid shelter, the Kerkrade population is ordered to leave on September 25th, 1944. A family with eight children is sent straight into the lines of fire, along with 30,000 other inhabitants of the Limburg border town. With no idea where to go or if they will ever be able to return. On their way, the group gets hit by grenades, resulting in 13 deaths and many injured. The surrounding countryside is facing an influx of tens of thousands of refugees. The filmmaker's native village welcomes four times as many people as the total number of its inhabitants. How did people cope with that situation, then and now?
Struck by the emotions this childhood period still bring out among those involved, Jotja Bessems investigates the impact of war on ordinary people. She visits former refugees and safe houses and wonders: how do we come to terms with this history, as a refugee and as a witness in later life? How do we relate to our own history and what effect does this have on our perception of the present?
---
Director Biography –
Jotja Bessems
Jotja Bessems (born in 1969 the Netherlands) earned her degree in Media & Culture Studies from the University of Utrecht. Since 2002 she works as an independent director, producer and camerawoman, making documentaries and films in cooperation with social organisations.
Director Statement
Becoming a refugee is not something far away, that will only affect others. It can happen to any one of us. In matter of fact it did happen; in our own families, not even that long ago. In researching this forgotten history, I was first struck by the emotions that this period invoke, even decades after. Thinking of all those refugees having to go through the same difficult times this very moment, made me want to tell this story to the world. In order to learn from our own history.
---
---
Project Title (Original Language):Stad onderweg
Project Type:Documentary
Runtime:52 minutes 19 seconds
Completion Date:September 25, 2019
Production Budget:80,000 EUR
Country of Origin:Netherlands
Country of Filming:Netherlands
Language:Dutch
Shooting Format:HD
Aspect Ratio:16:9
Film Color:Black & White and Color
First-time Filmmaker:No
Student Project:No