Description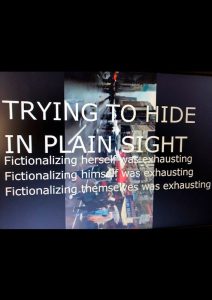 A first generation American born of refugee parents reflects on two years of DACA. Shot in New York City on an iPhone where the world is tilting on its side.
---
Director Biography – Susan Kouguell

Writer and filmmaker Susan Kouguell's solo works screenings include Leiden (Netherlands) International Short Film Experience, Alternative Film Festival (Canada) Society for Photographic Education (USA), Macau (China) International Video Art Festival, New Filmmakers New York Anthology Film Archives, and Experimental Forum (Honorable Mention 2018 & 2019). Her award-winning short films in collaboration with E. Marrero are in the Museum of Modern Art permanent collection and archives, and were included in the Whitney Museum Biennial. Screenings in over 50 international festivals and museums include the Centre Pompidou Beaubourg Museum and the Hirshhorn Museum.
Fellowships and grants: Whitney Independent Study Program, MacDowell Colony, The Edward Albee Foundation, Jerome Foundation, New York Foundation for the Arts, Art Matters Inc., Cummington Community for the Arts, Creative Artists Public Service (CAPS) grant, Brooklyn Arts & Cultural Association (5 grants) and Artist's Space.
Susan wrote choral texts for composer Alvin Singleton, including "PRAISEMAKER" (featured on the "Singing Rooms" CD) and for artist Annebarbe Kau's sound piece "Kopfstand": premiere exhibition in Bonn, Germany.
Susan teaches screenwriting at Purchase College, SUNY, and film at the Pratt Institute in Brooklyn.
---
Director Statement
My recent solo work explores how we negotiate cultural and pervasive mass media narratives — including vernacular representations of gender and politics, and politics of the image — to arrive at conclusions that question the definitions of truth. These interpretations are therefore in the eye of the beholder: Are they hyperbolic, actual or false?
The utilization of printed text is intended to manipulate, challenge and engage the viewer to regard the dissection of language that effectuates change in our culture. This choreographed exploitation of text on screen is defined by the size of the letters, the placement of words in the frame, the amount of time words appear and disappear on screen, and the movement and pacing of each word.
Susan Kouguell Director
Susan Kouguell Writer
Film Type:Experimental
Runtime:1 minute 57 seconds
Completion Date:May 20, 2019
Country of Origin:United States
Country of Filming:United States
Shooting Format:Digital
Film Color:Color
First-time Filmmaker:No
Student Project:No