Description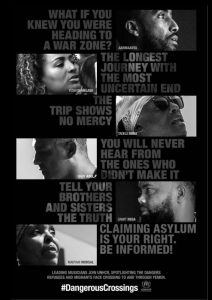 "Dangerous Crossings" is part of a major campaign by UNHCR, the UN Refugee Agency, to spread awareness about the dangers of crossing to war-stricken Yemen through the Gulf of Aden and Red Sea from Africa, highlighting the horrendous conditions and rising risks in Yemen.
The music is arranged by acclaimed Hollywood producer George Acogny and the video is directed by Egyptian film director Amr Salama. Aaarmaanta's song "Tahriib" sowed the seed for the creation of "Dangerous Crossings", with the Somali lyrics forming the basis of the chorus. The song marks the launch of the UNHCR Dangerous Crossings campaign and intends to send a key message – to make people think very carefully before deciding to cross to Yemen.
Prominent artists featuring include – Maryam Mursal and Aarmaanta from Somalia, Yeshie Demalash, Dawit Nega and Tadele Roba from Ethiopia, and Hany Adel from Egypt.
"Dangerous Crossings – The Making of a Campaign" is a compilation of the five Behind the Scenes videos intended for distribution on social media, which reveal the writing, rehearsing, recording and filming process of creating an international humanitarian campaign.
---
Director Biography – Ragnhild Ek – UNHCR
---
Ragnhild Ek – UNHCR Executive Producer
Marco Orsini – IEFTA Executive Producer
George Acogny Music Producer
Ismail Elmokadem Director (Behind the Scenes)
Amr Salama Music Video Director
Lizzy Lambley Post Production Supervisor
Vincent Cattaneo DOP/Editor
Tarik Argaz Second Unit Camera
Abdallah Ahmed Sound Engineer
Wolfgang Aichholz Sound Engineer
Wolfgang Aichholz Sound Engineer
Kareem Captam Sound Engineer
Emad Awad Production Assistant
Maryam Mursal Key Cast
Hany Adel Key Cast
Dawit Nega Tesfay Key Cast
Yeshi Demelash Key Cast
Tadele Roba Key Cast
AarMaanta Key Cast
Lacey Da Costa Production Coordinator
Jessica Gulhane (UNHCR) Production Coordinator
Yahia Khelidy (UNHCR) Production Coordinator
Jerome Seregnhi Project Managers and Advisors
Areti Sianni Project Managers and Advisors
Melita Sunjic Project Managers and Advisors
Hossam Badra Location Manager
Adam Sabee Font Design
Ossama El Bendary Production Editors
Nada Tabie Production Editors
Baher Rasheed Production Editors
Hassan Ashoor Production Editors
Mohab Hussein Musicians
Mizo Gamal Musicians
Ousso Lofty Musicians
Hesham Galal Musicians
Ashraf Awad Musicians
Abd El Azim Musicians
Film Type: Documentary, Other
Genres: drama, foreign, African, Musical
Runtime: 20 minutes 8 seconds
Completion Date: October 12, 2017
Production Budget: 100,000 USD
Country of Origin: Egypt
Country of Filming: Egypt, Ethiopia, United Kingdom
Film Language: Amharic, Arabic, English, Oromo, Somali, Tigrinya
Shooting Format: Digital
Film Color: Color
First-time Filmmaker: No
Student Project: No