Description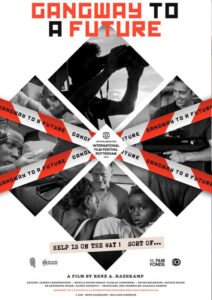 Gangway to a Future is a staggering film about a rescue mission with a former trawler that was converted to save refugees that try to cross the Mediterranean. While politics fails to find an adequate response to the refugee crisis that is raging on the southern border of Europe, a small NGO decides to take action themselves. The film tells the story of Adriaan Sonneveld, a (then) inexperienced captain, who is trying to tackle a humanitarian crisis together with a group of young volunteers.
---
Director Biography – Rene Hazekamp
Filmography
Skroeba (1987, short), Grondslag (1988, short), Aarzelingen (1989, short), Dido (1989, short), F.X. Messerschmidt (1989, short), Cargo (1989, short), Ogendans (1989, short), Gan (1989, short), 5e Episode (1990, short), Midden op de weg/No Meio do Caminho (1991, short), Zie de mens/Ecce Homo (1992,short), Wanna Get In On It? (1992, short), Hunt Down (1993, short), André Williams: Heaven and Hell (2000, TV-doc), It's Bad, You Know, The Blues According to Fat Possum Records (2000, TV-doc), Let There Be AC/DC (2001, TV-doc), Dropkick Murphys: Real Music For Real People (2001, TV-doc), Polly Jean Harvey: Still Haven't Found What I'm Looking For (2001, TV-doc), Solomon Reigns (2002, TV-doc), The Ex in Ethiopia (2002, TV-doc), Zwerfmens, de herinnering (2009, short), De onplaatsbaren/The Unplaceables (2012, doc), CircusTime (2013, doc), The Anti-Noah (2016, short doc), Gangway to a Future (2018, doc)
Director Statement
I shot this feature film bit by bit over 30 years, starting with my leaving Baghdad, Iraq, a personal journey reflecting alienation, longing, fear, escape, with an experimental approach to style and narrative.
One of the motivations for working on this film was my deep longing for my father – a father who was executed, whose body was never found or buried by the family – what effect does this have, how can one handle this? The same is still happening, there are many wars around us raging with the same consequences that I lived through, reflected in this film, that we see daily in the reports of the refugee situation.
I am a witness with my camera throughout my exile, experiencing the world through the lens, with the time lost, the days, the years passing by. This is why I felt that I had to capture my experiences, and process them into one film.
---
---
Project Type:Documentary
Genres:Documentary
Runtime:1 hour 30 minutes
Completion Date:January 25, 2018
Production Budget:50,000 USD
Country of Origin:Netherlands
Country of Filming:Italy, Libya, Malta, Spain, United Kingdom
Language:Dutch, English, Italian
Shooting Format:HD
Film Color:Color
First-time Filmmaker:No
Student Project:No