Description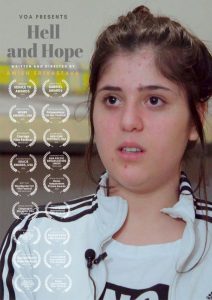 Islamic State militants abducted, raped, tortured and sold thousands of girls. A few girls risked their lives to escape. What happened to them? This documentary follows those girls.
This film not only reflects the horrific experience that these young women suffered but also shows how their lives have been changed. This is one of the first testimonies showing the world what it takes for ISIS victims to start the process of healing.
---
Director Biography –
AMISH SRIVASTAVA
Over the past two decades, Amish has been telling stories of war and peace, human endeavor and folly, politics and human society. As a roving correspondent Amish got an opportunity to be the only Indian TV journalist to have covered the Iraq War of 2003 from all three theaters – Iraq, Kuwait and Turkey. Amish also covered the state of Afghanistan after the fall of Taliban. Amish was in the thick of Kargil war between India and Pakistan. Amish has covered elections in India and America and traveled extensively for a host of stories.
Among thousands of news stories, short films and promos that Amish has written and directed, he edited 'Fire in the Land of Snow', an hour-long documentary on self-immolation in Tibet, which won the World Bronze Medal in New York Festivals, World Best Documentaries and Films in 2014.
His last short film, 'The Last Dance of Kocho…And its Missing Girls', has already been translated in more than a dozen languages and seen the world over.
I got the first-hand experience of reporting and being in the war zones. I felt the pain of societies as well as an opportunity to understand how societies end up in such situations. In some places, it was the majority versus minority and in many, the impact of religious extremism. Now my only goal is to carry the same feeling to the audience sitting and watching my films in some other parts of the world in a very comfortable situation. To stay low cost, I had to learn to shoot, edit, write and direct and I did. I narrated it too.
---
Director
The Last dance of Kocho and its missing girls
Writer
The Last dance of Kocho and its missing girls
---
Project Type:Documentary, Experimental, Feature, Web / New Media
Runtime:57 minutes
Completion Date:March 29, 2019
Country of Origin:United States
Country of Filming:Germany, Iraq
Language:English, Kurdish
Shooting Format:SONY as7 2 – 4K
Aspect Ratio:16:9
Film Color:Color
First-time Filmmaker:Yes
Student Project:No