Description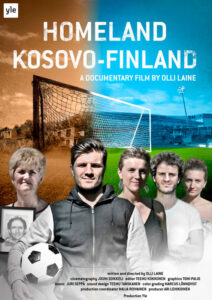 When a family of refugees arrives in a new country the life change is strange or even frightening especially for the parents. While it might be easier for children to adapt to their new surroundings, they face the pressure of growing up in a cultural melting pot: having to be cool amongst peers, but live up to and meet expectations of their family.
The documentary Homeland Kosovo-Finland (2018) tells the story of the nowadays famous Hetemaj family arriving in Finland having left their home in Kosovo in 1992. How do the children cope between the pressure from friends and parents? How can Kosovan parents build a better future for their children in a socially progressive western society?
Now that the Hetemajs' children have grown up, they work in politics and as professional footballers. Perparim Hetemaj is the captain of his Serie A team (Chievo Verona) in Italy and Mehmet Hetemaj plays in Finland's top flight. When the Finnish National Team plays against Kosovo in 2016-17, Perparim has to choose between his two lives: will he represent the Finnish or Kosovan squad?
This thought-provoking and inspirational documentary reveals the secrets of the family's success, as well as the price they have had to pay. Regardless of your background, Director Olli Laine's film offers an insight into cultural difference, life as an asylum seeker, integration, and tragic events of the Balkan's recent history.
The film offers an intimate insight into the famous refugee family's life from the 1980s onward thanks to home video footage and photo albums.
---
Director Biography – Olli Laine
Olli Laine (born 1976) is a Finnish audiovisualist and storyteller. He has directed TV-series, documentaries and short films for nearly 20 years. At the turn of the millennium he studied Digital Content Production at Helsinki University of Technology but later he decided to focus on TV and cinematic storytelling. His films usually depict societies under pressure or between systemic changes. His first feature documentary film HOMELAND KOSOVO-FINLAND (74 min, 2018, Finland) had its national premiere in 2018 and was deemed a great success in Finnish media. The short documentary SKOLT ROCK IN LAPLAND (15 min, 2010, Finland) won the first prize at Chicago International Children's Film Festival in 2010.
---
Director Statement
I met the Hetemaj family first time in 2016 when I interviewed the mother and two adult daughters about their refugee history for a short TV-documentary. I met a pleasant and joyful family, but felt that grief and sorrow from their past life was still present. I was strongly impressed about how they handled, as well as talked about, all the tragic events: sometimes with humour, sometimes with tears of pain. The family impressed me with a very special ability to straight up talk about their feelings. I realized that I have to make a longer documentary about their touching story.
When the Hetemaj's arrived from Kosovo to Finland in 1992 the kids (2 daughters, 2 sons) were 4-7 years old. Nowadays they are very famous because both sons are professional football players and the younger daughter (Fatbardhe) is a successful politician in Finland. The older brother Perparim Hetemaj is the captain for Chievo Verona in Italy's Serie A and has been one of the most important players for the National Team.
I felt that the success of the family was not only good luck and understood an excellent opportunity to tell a story about the hardship of refugees filled with hope, humour and other positive elements. A story made up of much more than the death of loved ones, losing ones home, poverty and illness while still depicting also these miserable life events.
My real goal was to find out, what the family's secret for success is and to make a documentary film about that. In retrospect I am proud to say that I succeeded in both.
---
Credits
Olli Laine
Director
Olli Laine
Writer
Ari Lehikoinen
Producer
Jouni Soikkeli
Cinematographer
Cinema Dadaab (2018), Kibera! (2015)
Olli Laine
Cinematographer
Petri Heikkilä
Cinematographer
Teemu Kokkonen
Editor
Perparim Hetemaj
Key Cast
"as himself"
Mehmet Hetemaj
Key Cast
"as himself"
Fatbardhe Hetemaj
Key Cast
"as herself"
Fatlume Hetemaj
Key Cast
"as herself"
Emine Hetemaj
Key Cast
"as herself"
---
Specifications
Project Title (Original Language): Kotimaa Kosovo-Suomi
Project Type: Documentary
Genres: expository, interview, observational
Runtime: 1 hour 13 minutes 35 seconds
Completion Date: May 26, 2018
Production Budget: 150,000 EUR
Country of Origin: Finland
Country of Filming: Finland, Italy, Kosovo
Language: Albanian, Finnish, Italian
Shooting Format: 2K digital
Aspect Ratio: CinemaScope
Film Color: Color
First-time Filmmaker: Yes
Student Project: No