Description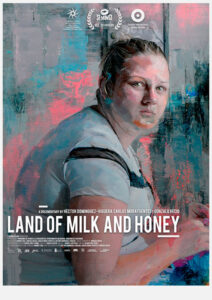 In Sarajevo, Mirsada and her daughter Vanesa survive, after 25 years, in the collective center of Hrasnica, waiting for a definitive housing solution that never comes.
In Georgia, the 78 year-old Bela struggles every day to recover the bodies of the disappeared in the wars of Abkhazia. At the same time, hundreds of displaced people due to the conflict begin to acquire the promised government housing in Tbilisi. However, Dani, Gio and Vika, aged 11, find it difficult to assume that they will have to separate and leave the neighborhood where they grew up.
And in Greece, Alia and Hussein, who fled the Syrian war, look forward to family reunification and their reunion with their daughter Zozan from Polykastro, a state of limbo from which it's not easy to leave.
What connections can there be between people who live so far geographically but are united in the same wound? The film explores this question in depth, following the daily lives of the protagonists — people displaced by the wars in the Balkans, Syria and Abkhazia who, although in the middle of nowhere, in a non-place, share a great and firm determination to keep on searching.
---
Director Biography – Héctor Domínguez-Viguera, Carlos Mora Fuentes, Gonzalo Recio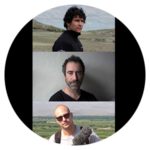 HÉCTOR DOMÍNGUEZ-VIGUERA
Hector Domínguez-Viguera (Ourense, 1984), graduated in Film Direction and Screenplay from the Tai School in Madrid. He has taken several courses and workshops at the Master Lav School (Madrid).
He worked as a screenwriter for different production companies (Ganga, Argos).
After his studies he filmed two short films: "She and the Mirror" (2014) and "The Well" with Aitana Sánchez-Gijón as one of the main characters.
He worked in the Direction department of national and international productions like "Terminator 6" or in the casting department in films like "The Promise" and series like "30 Coins" by Alex de la Iglesia for HBO.
He is currently preparing his second feature film "Las Brujas de O Mato" which he will co-direct with the Brazilian director Mónica Demes.
CARLOS MORA FUENTES
Carlos Mora Fuentes (Santander, 1979), studied Environmental Sciences and specialized in Environmental Engineering. After working in civil engineering for some time, he felt he needed to make a change and pursue a career in film. He enrolled in the Madrid Film School (Tai School), studying Filmmaking.
After graduating he directed two short films: "Tell the Women were Going" (based on a story by Raymond Carver) and "Sand", which received national fundings from ICAA and the Cantabrias Cultural Action Grants. It was selected for several international film festivals winning the Audience Award at Nuevas Olas International Film Festival.
While developing his own artistic projects, he worked in large national and international film productions (HBO, SKY TV, NETFLIX) both in Direction and in the Art and Production departments. Carlos is currently residing in the Netherlands preparing his second feature film with Anna Berkhof and with the support of Kunstraad Groningen: "Level".
GONZALO RECIO
Gonzalo Recio (Toledo, 1985) studied Film and Television Direction and began working on national TV as a camera operator and director for 5 seasons.
In 2013 he created Zerkalo Films, S.L, a production company for which he has worked since then as cinematographer and editor.
He combines the development of his personal projects, both in the field of photography and audiovisual with work in fictional productions for ANTENA 3, NETFLIX or WARNER.
In 2019 he made the documentary short film "Still Time", an introspective and sensorial approach to the refugee camps scattered throughout Greece.
---
Director Statement
One of the most powerful ideas we had when we started filming was to establish a close link with the people portrayed in the film. A relationship based on coexistence and trust that would result in authenticity on the screen. In this way the viewer can coexist with the characters in their own daily reality, in their spaces. In short, we wanted to generate a feeling of empathy.
This process was the most enriching thing that the film has brought us. Before even taking out the camera, we had already shared long moments with the people we wanted to portray. Their hospitality to foreigners, in this case us, always amazed us.
At the same time that we were filming, the idea of involving the characters in the creation of the film was growing. We wanted to know how they wanted to portray themselves. What they would like to show the audience, and what not. What things could be beneficial to the movie. We believe that in this layer of conscious self-representation lies a great cinematic truth. Working together on this made our relationships even more intense. Equally intense was the emptiness we experienced at the end of this shoot.
During filming, we also discovered relationships between, and echoes or reflections from the characters in the different countries. Ways of smoking, gestures, looks that seem to search their memory for something, and even the shapes of the different bodies draw the map of this film. This is how we discovered the backbone for editing. The way to guide the viewer through the maze of the film. It resulted in a juxtaposition of these non-places where we filmed (Greece, Bosnia and Georgia), in such a way that they have a dialogue with each other. We abolish the space that separates them by building a kind of imaginary city where all the displaced who star in "Land of Milk and Honey" are located.
To all of the above, its necessary to add another direction intention that arose during the editing. Given the recorded material, we decided that it seemed much more interesting to us if the film advanced in a poetic emotional sense instead of in a classic narrative sense. For this we established chapters that function as poetic segments where the thread that unites the sequences is dictated more by emotion, the irrational, than by the informative or narrative.
In this way, we have assembled the film revealing temporal and spatial gaps that exist between one chapter and another. Not accurately stating the time elapsed between events. For them, the people we portray, unfortunately time passes in this way. Sometimes it runs fast and sometimes it stops dead.
All of this makes "Land of Milk and Honey" a movie that should be watched from beginning to end, accompanying all the characters in all the different places that somehow seem to be the same place, or no place at all. This is how we can fully grasp the disorienting placelessness and ordinary, familiar, daily life that both play such a big part in displacement.
---
Credits
Héctor Domínguez-Viguera
Director
"The Well" (short film)
Carlos Mora Fuentes
Director
"Sand" (short film)
Gonzalo Recio
Director
"Still Time" (short film)
Héctor Domínguez-Viguera
Writer
"The Well" (short film)
Carlos Mora Fuentes
Writer
"Sand" (short film)
Gonzalo Recio
Writer
"Still Time" (short film)
Andrés Díaz
Producer
"Void", "Heart", "Echoes", "The Well"…
---
Specifications
Project Title (Original Language): Tierra de Leche y Miel
Project Type: Documentary
Runtime: 1 hour 28 minutes 6 seconds
Completion Date: September 24, 2020
Production Budget: 183,000 USD
Country of Origin: Spain
Country of Filming: Bosnia and Herzegovina, Georgia, Greece
Language: Bosnian, Georgian, Kurdish
Shooting Format: Digital
Aspect Ratio: 2.35:1
Film Color: Color
First-time Filmmaker: Yes
Student Project: No