Description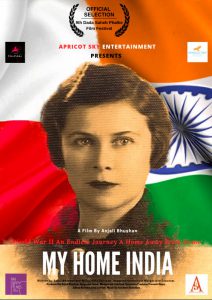 Both in films and history books, a lot is spoken and known about the
World War II, however outside of Poland little is known about what
happened to the Poles who survived Soviet Siberian labour camps and found their way into INDIA. These Poles have different stories to tell but have one common link – KIRA Banasinska.
WHO IS KIRA BANASINSKA?
The wife of Eugene Banasinski, the first Polish Consul General of Poland in Bombay, 18 years her senior, admired by many men whose affections she gave into even with in her marriage, Kira was perceived as a social butterfly and artistic soul. World War II changed all that. Kira was instrumental in seeing that thousands and thousands of Poles found safe passage and home in India.
My Home India is about the fragile but stubborn and strong willed Kira
Banasinska's phenomenal struggle to make a home for the Polish war refugees in India. The film is a rare collection of previously unseen archives combined with first hand testimonies from the survivors – a discovery of the extra ordinary in the ordinary. Personal history is seldom the same as projected history. KIRA did not choose greatness. Greatness chose her. While making a home for them in India, INDIA became her HOME.
---
Director Biography – Anjali Bhushan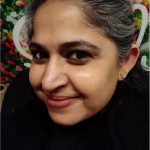 As a producer, director and writer, Anjali Bhushan focuses on bringing to screen films that inspire and provide hope. She makes films that rekindle and reactivate affirmative life values. She draws the best out of the world around her, exposing and bringing to light the beauty that lies hidden in the debris of human failings. With a keen eye on content, Anjali has a well-rounded approach to film making and an acute understanding of the market needs, target audience, budgets and what it takes to successfully bring any piece of visual work in sharp audience focus. Anjali has a 360degree approach to filmmaking and media in general with advanced skills and experience in working with international crews and co-producers. She has in solo capacity co-produced and directed 3 documentaries with British, Polish and Japanese co-producers.
Starting as Associate Producer on a TV show in December 1995, Anjali has experience in a wide range of roles in the Indian film and TV industry. She has often been the sort after professional for setting up new projects in difficult terrains and complicated filming structures. Her hands-on approach and acute attentiveness to detailing makes her a go to producer for projects that test new boundaries.
Anjali Bhushan has been associated with one of India's biggest record-breaking blockbusters, that moulded generations of audience in India and Indian diaspora across the globe, "Kuch Kuch Hota Hai". In her capacity of Chief Assistant Director to Karan Johar, Anjali was responsible for managing primary talent, casting secondary non star characters, rehearsing with secondary characters, supervising costumes & sets, finishing script translations&dialogues, writing on shot continuity, planning call sheets, editing the first cut, dubbing, dubbing matching, laying tracks, sfx laying, translating in English, subtitling and assisting the director in every way to ensure the film was planned and delivered in time for release. The film starred the superstars Shah Rukh Khan & Salman Khan and Kajol & Rani Mukherjee; and was produced by the veteran Producer, Yash Johar.
Anjali has since written and worked on films like Aziz Mirza's "Kismet Konection" (Story Writer) which starred Shahid Kapur & Vidya Balan; a TIPS film called "Albela" (Screenplay Writer & Associate Director), starring Aishwarya Rai Bachchan, Govinda & Jackie Shroff; and "Dharm" (Associate Director) starring the talent power house Pankaj Kapur.
Anjali started her career 23 years ago by directing and writing for TV. She has written, directed and line produced more than 60 episodes of three TV shows on Sony TV, EL TV, and Zee TV (Take5, People's Club & Namaste India). She has also been the Creative Director of some prestigious Indian daily fiction shows (Ayushman) and filmmaking & marketing companies like Cinevistaa (P) Ltd. and Frequency Entertainment (Socha Na Tha & Saade Saat Phere).
Anjali directs and produces with equal ease and has directed the popular Indian Idol 'Abhijeet Sawant' in a music video for his first solo album, released by Sony Music, and a documentary for Hunger Project to celebrate the work of women "Sarpanch's" as per the 73rd amendment of the Indian Constitution. She also worked on a PSBT documentary "Sita's Family" and a documentary on mining issues in Jharkhand. Her Master's project was the much lauded Jamia documentary "Joysticks & Buttons" on the mislead youth and their world of violent video games especially the Nintendo game 'street fighter'. She also Directed & Produced a corporate film for the Jindal's (one of India's leading Tea Estates), "First Light" to promote tourism in Assam; corporate films for HCL, for Fulcrum and a corporate film to promote admissions in the IFT & SPACE.
While making her come back into active filmmaking post her maternity break, Anjali established the Institute of Film and Television (IFT), an under-graduation filmmaking school, and School of Performing Arts and Creative Education (SPACE) as the Dean with over 100 students on 2.5 acres of a sprawling campus with in-house studios and work labs in association with Northumbria University, Newcastle, UK.
She has also been Joint Secretary for Indian Independent Filmmakers worldwide, which is an organization of filmmakers to affect policy change in the I&B sector and to support, nurture and evolve the Indian Independent voice in Indian cinema. Filmmakers Ketan Mehta, Sudhir Mishra, Krishna Shah, Sriram Raghavan and Anurag Kashyap amongst others are the pillars of IIFW.
Anjali has often written as a guest columnist with DNA (on special issues), Hindustan Times, The Asian Age, Deccan Chronicle and Mumbai Mirror. She wrote a daily diary of a filmmaker from Cannes in 2007, 2008 and 2013 and contributed articles in Mumbai Mirror in 2015.
A graduate with honors in English Literature from Gargi College (1993), Delhi University, Anjali went on to do a Masters degree in Mass Communication from MCRC (1995), Jamia University, where she excelled in filmmaking while also harnessing her skills as a cinematographer (video and 16mm), editor, sound-recordist and photographer. As one of the first voices to qualify, she was chosen as a Radio Jockey and Radio Producer for the FM channel of All India Radio during her schooling years.
Anjali has often worked with NGO's and has extensively traveled in India, collecting personal tales of the people of the land. She has been developing her first international two-language feature film titled 'Amaan, The Edge of Paradise'. As a producer director, she has a penchant for developing scripts over long periods of time and has also funded the development of a romantic comedy feature film (which she has co-written) entitled 'Happy Birthday'. A young dramatic comedy focused on a millennial TG, 'Ishqa' is one of her strongest scripts and slated to go in production with Jigsaw Pictures.
Anjali co-produced and co-directed the documentary on Bandra (Mumbai) on the subject of urban communities, documentary tentatively titled 'The Bandra Project' with Aalika Mahindra.
She has produced and directed a documentary on an Indo-Polish subject, "MY HOME INDIA" together with Malgorzata Czausow in a co-production with Film Polska, Poland. The film has distribution interest from Blue Dolphin Films (UK). The Executive Producer Joseph D'Morais has to his credit Oscar winning films like 'Tsotsi'. The film won a post-production grant from the Polish Ministry of graves around the world. Further distribution and festival representation is still being seeked though the film will premiere on March 8 at a special screeing by the Polish Consulate in Mumbai.
Anjali has co-produced and co-directed with Leslee Udwin, (producer of East Is East and West Is West) a feature length documentary based on the Delhi Rape Case 2012, titled "INDIA'S DAUGHTER". The film is a 360degree perspective on violence against women in India and Rape, commissioned by the BBC, UK. It had been voted No. 1 by a worldwide jury amongst 3000 entries from the world over in IDFA Forum's Secret Pitch. The film was awarded the Gucci Tribecca Outreach grant. The film was broadcast by: Rai, DR, CBC and STV amongst others. She is currently under litigation on the same in Delhi Courts.
http://worldview.cba.org.uk/delhi-rape-case-documentary-receives-funding-from-worldview/
http://www.idfa.nl/industry/tags/project.aspx?id=2840e8e2-8a41-419d-acda-21c898192142
With Ajay Devgn Ffilms, Anjali started as an international production and script consultant for the magnamopus SHIVAAY (https://www.youtube.com/watch?v=poLjq0u4_5A), a Bollywood film directed and produced by the Indian super star Ajay Devgn. She consulted to set up the Bulgaria schedule and has been involved with all the pivotal production planning. In her role as the Creative Producer on Shivaay, Anjali was involved in choosing the key crew, negotiating fees and contracts, controlling budgets, structuring the flow of funds for the Bulgarian shoot, raising sponsorships, working closely with the Bulgarian & German crew as well as all the international cast members including actors from Germany, Bulgaria, England, Poland & India. She was involved in the marketing of the film and coordinated the campaign as a creative producer under the guidance of the star director producer, Ajay Devgn. She was also shooting stills and behind the scene footage on the film and was involved with planning and editing all the making of material during the making and marketing of Shivaay. Anjali also shot and directed the long format documentary 'Bigger Than Fear' on the behind the scenes of Shivaay.
Her documentary Smiling Woman of Banda was shortlisted by Colours of Asia under the Tokyo Docs umbrella and was funded amongst the 3 selected projects from Asia by NHK. The film was aired on NHK on 3rd November 2016 and the international distribution of the 25minute version is underway. The long format version of the film has begun seeking finance with a French and Japanese co-producer.
Anjali has a wide knowledge of global markets and has linkages in Japan, Poland, Bulgaria, UK and the US, spanning almost all major filming locations and film production companies across continents. She is also developing a sales agency model with a Polish & Bulgarian company to open Poland & Bulgaria as new markets for Independent Indian content and as a dual space to explore collaborations with the Eastern European countries for tax incentives and line production for Bollywood films. In association with another company, she is also setting up a distribution model for dissemination of documentary films in India to create an indigenous market and funding platform for Indian Documentary Film to be up and running by 2020.
Anjali is well connected in the Indian as well as International fiction and documentary industry and has the experience of working with governments both in India and abroad, with national values at international standards. To add to her skills as a producer she is constantly updating herself and has attended international and national conferences and film festivals as a jury member, conducted workshops and been a panelist to benefit the next generation of filmmakers by raising key questions and highlighting core Producer needs (CANNES film festival, LIFF, FICCI, Surat Chambers of Commerce, Women's conclave of Gujrat). She has an extensive knowledge of media and copyright law from a producer's perspective. With a keen eye on business stand points, she has creative vision and focuses on the right balance between budgets and creatives.
Since November 2017, Anjali has been working with Tseries as Vice President Creative and has worked closely with Vinod Bhanushali and the marketing team on giving creative solutions and coordinating the marketing requirements of films produced and released by Tseries. She has also been working on Music Videos and handling all creatives, including concepts and quality control for in house productions. Additionally she has been developing scripts and digital content for in house productions as well as given creative solutions to underproduction films. Listening to narrations and guiding script development is one of her key functions in her current assignment. She has also supported the corporate function of the company by helping the MD, Mr. Bhushan Kumar, in structuring the company's day to day functions where needed.
Her recent credits as Vice President Creative for T-series include Satya Meva Jayate, Hate Story, Batti Gul Meter Challu, Time To Dance, Blackmail, Fanney Khan, Batla House, Marjaanvaan, Kabir Singh, Street Dancer 3D, Saina amongst many other films yet to be announced.
She is also developing next tranche of Theatrical and Digital film and series scripts for Netflix, Google and other OTT platforms for T-series. She has also developed concepts and helped execute several Music Videos.
---
Director Statement
MY HOME INDIA is a memoir of the little known personal histories of KIRA BANASINSKA, a Polish woman who helped heal & house six thousand Poles from Siberian Labour Camps during World War II in India, from 1942 to 1947.
---
Anjali Bhushan Director
Anjali Bhushan Writer
Apricot Sky Entertainment Producer
Kira Banasinska Key Cast "Kira Banasinska"
Film Type:Documentary
Runtime:45 minutes
Completion Date:March 8, 2019
Production Budget:57,621 USD
Country of Origin:India
Country of Filming:India, Poland
Film Language:English, Polish
Shooting Format:Digital
Aspect Ratio:16:9
Film Color:Color
First-time Filmmaker:No
Student Project:No