Description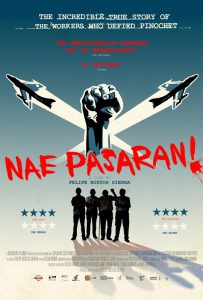 40 years after the defiant stand against Pinochet's dictatorship, Scottish factory workers discover the incredible impact of their action.
---
Director Biography – Felipe Bustos Sierra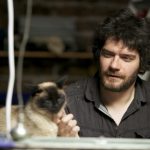 BAFTA-winning Chilean-Belgian producer, director based in Scotland with Debasers Filums.
Founded Debasers Filums in Edinburgh in 2010, through which he has directed and produced four award-winning short films, the fiction shorts "Tixeon", "Three-Legged Horses" and "Five Six Seven Eight!" and the short documentary "Nae Pasaran",. They have screened at over 100 international film festivals, including Tribeca FF, DOK Leipzig, EIFF, London FF, Zinebi, Clermont-Ferrand, Brest and many more.
He is an alumni of the Berlinale Talent Campus 2012 and the EIFF Talent Lab and a member of Eurodoc and the Independent Film Programme (IFP).
"Nae Pasaran" (2018) is his first feature film. Initially crowdfunded through Kickstarter, it was nominated for two BAFTA Scotland Awards, Best Feature and Best Director. It became the first documentary to win the Best Film award.
RECENT FILMOGRAPHY
NAE PASARAN (2018) Director/producer
Feature-length documentary released in UK in November 2018.
BAFTA Scotland for Best Feature Film and nomination for Best Director – Factual
BIFA Best Documentary – nomination
San Sebastian/Donostia Film Festival – Human Rights – Audience Award
IFP's Project Forum: Spotlight on Documentaries 2015
Eurodoc 2015
Sheffield Meetmarket 2015
Nae Pasaran (2013) Director
Documentary, Short Winner of 3 Best Documentary Awards including Silver Mikeldi Award at Zinebi 2014, EIFF 2013, DOK Leipzig 2013, London Short Film Festival 2014, Tribeca Film Festival 2014, and many more.
FIVE SIXE SEVEN EIGHT! (2012) Director, writer, editor, producer
Fiction, Short, 10 international film festival selections.
THREE-LEGGED HORSES (2012) Director, writer, editor, producer
Fiction, Short, over 60 International film festival selections, Winner of 4 Best Short Film Awards
BAFTA member
Hot Docs 2016, Toronto, Canada – Scottish Delegation
Member of the Eurodoc Network 2015
Independent Film Program – Spotlight on Documentary 2015
Golden Dove Award Nominee – DOK Leipzig 2013
Bridging the Gap 2013 commission – Scottish Documentary Institute
Berlinale Talent Campus Alumni 2012
Edinburgh International Film Festival Talent Lab 2012
---
Felipe Bustos Sierra Director
Felipe Bustos Sierra Producer
Colin Monie Editor
Patrick Neil Doyle Music
Peter Keith Cinematography
Film Type:Documentary
Genres:Human Rights, Solidarity, History
Runtime:1 hour 36 minutes
Completion Date:November 2, 2018
Production Budget:330,000 GBP
Country of Origin:United Kingdom
Country of Filming:Chile, United Kingdom
Film Language:English, Spanish
Shooting Format:HD
Aspect Ratio:16:9
Film Color:Color
First-time Filmmaker:Yes
Student Project:No