Description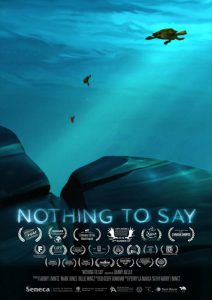 Nothing to Say in an allegory in which a recent arrival at the zoo, a turtle, challenges the zookeeper and other animals by not speaking on command to receive his food. By revealing his story to the others, the turtle exposes themes of exile and being a refugee in a land that provides for the body at the cost of the soul. Various animation styles used in the film help to uncover the emotional quality of the turtle's experience.
---
Director Biography –
Aubry Mintz
Aubry Mintz has worked as a feature animator at George Lucas's world renown/award winning VFX house Industrial Light and Magic and also for Japanese front runner game/film studio Square USA. Mintz is an award winning freelance animation director for television and the Internet working on projects for clients such as Smirnoff, McDonalds, MuchMusic, General Mills and the Canadian rock band Rush.
He produced the animated pilot "Airship Dracula" for Rides TV with the Canadian rock group The Sadies and Juno winning animation director Michael Roberts, and Mintz directed a short animated film that is narrated by celebrity Danny Aiello and co-produced by the Oscar award winning Seneca Institute in Canada.
Mintz is also co-author for the Focal Press book "Ideas for the Animated Short 2nd Edition" and is currently writing a book with co-author Ellen Besen called "Theory of Integrated Storytelling".
Mintz has presented his storytelling findings at film festivals to packed audiences throughout the US and Canada and frequently does presentations on integrated storytelling, most recently at Disney Feature Animation, CTNX, Blue Sky Animation Studios and DreamWorks Animation. He has also recently appeared as a guest host on TV's Turner Classic Movies (TCM) for a 4-hour program consulting on the animated short films from the National Film Board of Canada.
Passionate about teaching, animating and telling stories, Mintz was Chair of the Animation program at Laguna College of Art and Design (2002-2007) and Head of Animation at CSULB (2008-2018) and is currently a Full Professor and Director of the School of Art at California State University Long Beach.
Mintz is also on the board of Directors for the prestigious non-profit organization ASIFA-Hollywood which is the largest chapter of the international organization ASIFA.
Director Statement
Our current war torn worldly climate has left countless wandering, often landing on shores and boarders unwelcome and rejected. Wrongfully taken, split apart, desolate and unable to return home – these are the displaced people of the world. The increasing divisive nature of the world around those seeking refuge and asylum is in detriment to humankind that is crippling our responsibilities to embrace and empower future generations. It is imperative to cultivate a culture that conditions a response of community that pays attention to the voiceless that live among us. Understanding cultural diversity begins with compassion and I hope that this film will help start the conversation.
NTS was written, designed, animated and directed by Aubry Mintz (Professor and Director of the CSULB School of Art) and narrated by actor Danny Aiello. This film uses three disparate animation techniques to tell this story each from a different point of view; ACT 1 – hand drawn traditional animation methods for the Zoo world from the Zookeeper's POV – a flat 2 dimensional one that only sees black and white, ACT 2 – computer animation for the underwater world from the Turtle's POV that displays the depth and beauty of his home and ACT 3 – experimental/multi-media animation to transition between the two worlds shown from the Animal's POV who have learned the most in this short story.
This animated film was created to educate to instill empathy through poetry and visual context. Providing an introspective gaze into the why and how this single turtle's journey landed him a place he's now subjugated to comply in.
---
---
Project Type:Animation, Short
Genres:Drama, Poetry
Runtime:9 minutes 35 seconds
Completion Date:January 31, 2019
Country of Origin:United States
Country of Filming:United States
Language:English
Shooting Format:Digital
Aspect Ratio:16:9
Film Color:Color
First-time Filmmaker:Yes
Student Project:No