Description
Ziad, a Palestinian day laborer, is denied entry into Israel for work that day. Not wanting to return home empty handed after promising his daughter meat for dinner, he needs to get creative. A poetic and tragic reflection on the everyday struggle of Palestinian breadwinners.
---
Director Biography –
Shady Srour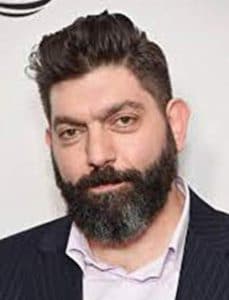 Shady Srour is an actor, scriptwriter, director and producer for Cinema, Theatre and TV, and a lecturer at the Open University.
He has B.A degree from Tel-Aviv University in Theater acting and M.F.A in filmmaking from the Academy of Art University, San Francisco.
Lately Shady was involved in the film 24 Hours Jerusalem (arte), which won the German TV Award for best documentary 2014. He was the Lead in the Oscar-nominated short film Ave Maria. Holy Air is his feature debut as director.
FILMOGRAPHY
Sense of Need, 2005, Academy of Art, thesis project
Either Me or Haifa, 2007, short
Amwash, 2009, Comedy Series (10 Episodes)
Films from Real life, 2010, 10 shorts
Watan A Watar, 2011, Comedy TV Series
24 Hours Jerusalem, 2014, Documentary, Content Director
Holy Air, 2017, narrative feature (world premiere –Tribeca FF 2017)
Oslo, 2018, short
Director Statement
A laborer once told me what happened to him one day. He lives in a village near Bethlehem, it takes him an hour and a half to get to the checkpoint each day. So, he leaves home when it's dark and walks endlessly towards the rigid landscape. After waiting in line another hour at the checkpoint, a female soldier refused to let him in even though he had a permit. On his way back, he doesn't want to confess to his wife that he didn't manage to go to work so he stopped on the way and slept underneath a tree. While sleeping, he had a dream that he slaughtered a dog so he can bring meat to his family, and when he woke up he found a dog sitting close to him…
This was my inspiration for this short film, it is a tragedy that reveals the everyday dilemma of degradation and the question of how to keep one's own dignity.
The film was shot on 35mm film stock in the areas where these laborers really live. It is an arid landscape of mountains near East Jerusalem. It's all deserts, no life, and this captures and reflects the harsh existence of the Palestinian laborers.
---
---
Project Type:Short
Runtime:15 minutes 50 seconds
Completion Date:March 20, 2019
Country of Origin:Israel
Country of Filming:Israel
Language:Arabic
Shooting Format:35mm
Aspect Ratio:1:1,85
Film Color:Color
First-time Filmmaker:No
Student Project:No