Description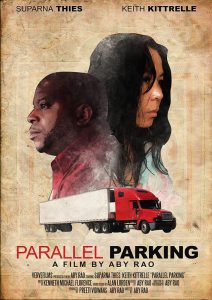 Dechen, an undocumented worker, and Oscar, a reckless truck driver plagued by addiction, are immigrants to the United States who arrived under traumatic circumstances. Oscar teaches Dechen to drive, and Dechen provides companionship and support to Oscar through his failing health. Their relationship develops and deepens across identity differences due to reciprocity and their shared love of food.
---
Director Biography – Aby Rao

Aby Rao (Writer, Director and Producer) is an Asian-American filmmaker based in Morrisville, NC. He started his entertainment career in 2009 by producing mini-documentaries for Philadelphia's WYBE public television. His script, "Parallel Parking," made it to the second round of the 2014 Sundance Screenwriters Lab. He is the recipient of the Filmed In NC grant and will be releasing his first feature film, "Parallel Parking" in Fall 2018. His work has received vast success in film festivals, Short HD Satellite Channel and various online distribution platforms, such as Amazon Prime, VHX, Indieflix and IndiePix. His films have been screened at Cucalorus Film Festival, Carrboro Film Festival, Seattle South Asian Film Festival, NC Film and Video Film Festival, etc.
---
Director Statement
Immigration in the United States has entered a 'dark phase.' Immigrants with strong ties to this country are being uprooted and often deported without a fair trial. Hate crimes and the negative rhetoric towards immigrants all around the world have significantly increased. As an Indian-American who immigrated fifteen years ago, I am hurt and terrified at the unpredictable future for immigrants. Another issue close to my heart is the plight of refugees. I have fond memories of interactions with refugees for a short documentary – 'Refugee Run Club.' They were refugees from Afghanistan, Iraq, Syria, Eritrea, Somalia, etc. who were relieved to begin a new life in a free and safe world. At this juncture, I believe the biggest mistake we can make is to alienate these innocent people.
I would like this film to offer more than sheer entertainment. It is an attempt to humanize such hardworking and virtuous immigrants and to begin to shift some of the negative perceptions that abound in this country. I hope to convey the sentiment that immigrants enhance the lives of all of us who live here, and though their journeys are often steeped in hardship, the stories also embody hope and the opportunity for second chances. In this film, we meet Dechen and Oscar and share the trials, tribulations, and successes of their uncertain life path. The unconventional reciprocal relationship between them is inspired by the lives of several immigrants I met during my time in the United States.
Besides financial success and the ability to reach a large audience, my ambition is to create meaningful work that generates social profit and gives back to the community. As part of our community engagement effort through our website and social media campaign, we are collaborating with various immigration advocacy services and programs to offer helpful resources that take our message even further.
I am delving into this feature film after making several short narrative films, where I had the opportunity to learn from my mistakes and grow from them. Films by Ramin Bahrani, Sean Baker and Kelly Reinhardt inspire me. Low- budget films such as 'Goodbye Solo' and 'Take Out' with immigrant protagonists propelled me to combine my interest in immigrant issues and neorealistic filmmaking. I realize there are several stories in small-town America about immigrants, new and old, that are yet to be told. Also, cultural, social, economic and ethnic conflicts in smaller towns are often not covered in mainstream media. I am proud to announce that the majority of our team members are immigrants and/or belong to a minority group who bring their own life experiences, which makes the film even richer. Parallel Parking is a micro-budget film funded by family, friends and a grant awarded to us by 'Filmed in NC'. In 2013, this screenplay was selected for the second round of the Sundance/A 3 Foundation Fellowship.
– Aby Rao
Director, Writer, Producer
---
Aby Rao Director Singhing Bee, The Seat, Dechen
Aby Rao Writer Singhing Bee, The Seat, Dechen
Preeti Vidwans Producer Singhing Bee, The Seat, Dechen
Aby Rao Producer Singhing Bee, The Seat, Dechen
Suparna Thies Key Cast "Dechen"
Keith Kittrelle Key Cast "Oscar"
Film Type:Feature
Runtime:1 hour 14 minutes
Completion Date:August 22, 2018
Country of Origin:United States
Country of Filming:United States
Shooting Format:Digital – HD
Aspect Ratio:2.34:1
Film Color:Color
First-time Filmmaker:Yes
Student Project:No