Description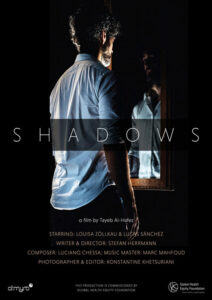 "Shadows" is a filmic adaptation of the original play "Ghosts" by Stefan Herrmann, it is a silent short film with an original music score by Luciano Chessa. The film "Shadows" presents the story of a young couple displaced by war. A strenuous journey leads them to a new home, where they are haunted by the trauma and terror of war and displacement. The film is an educational tool that raises awareness about the trajectory of trauma if it is not properly addressed.
---
Director Biography – Tayeb Al-Hafez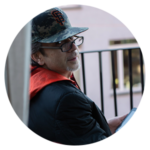 Tayeb Al-Hafez was born in 1968 in Damascus, Syria. In 1992 he immigrated to the United States after completing medical school in his home country. He promotes the use of media and technology in healthcare delivery and in enhancing public health education and preventive measures.
In 2010 Al-Hafez developed a participative media suicide-prevention program called Let's Talk in Eastern Montana, USA. It is actively reducing the stigma of mental illness by increasing the awareness of the problem that is youth suicide.
By transmitting knowledge using multi-media, he believes science and healthcare initiatives reach a wider audience and will be more effective.
Al-Hafez currently serves as the president of the Global Health Equity Foundation (GHEF), which he founded in 2007 and directs several of its programs and projects.
He is also the founder of Al'Myra, a multi-media organization dedicated to communicating the richness of cultural diversity by nurturing art, design and science.
Tayeb Al-Hafez currently lives between the United States and Germany.
---
Director Statement
The original silent play, "Ghosts", was commissioned by the Global Health Equity Foundation (GHEF) and has since been adapted to film by Tayeb Al-Hafez, the founder of GHEF. The film "Shadows" is an important part of GHEF's larger project "Health Diplomacy for Arabic Speaking Refugees in Germany".
The film depicts the symptoms and challenges of trauma resulting from war and displacement among refugees. It serves as a foundation for dialogue concerning difficult and personal topics and brings hidden traumas into conversation to open paths for healing.
GHEF worked with psychologists and public health experts to ensure that "Shadows" is effective and results oriented. The impact of viewing the film is determined by measuring increased awareness of trauma, of definitions of trauma, and of symptoms.
There is an urgent need for action in this field. Unprocessed traumas can affect entire families. Children are particularly vulnerable. The project gives refugees and their children the opportunity to approach this topic carefully and in a playful way, thus encouraging the participants to seek professional help.
Many refugees from the Arab world are traumatized. They have experienced terrible things in their homeland, or they experienced trauma during their travels to Europe and during their resettlement. They learn the local language, they try to find work, and they raise their children. They support each other.
Preliminary research has shown that some refugees, especially young Arab men, do not want to admit their trauma or post-traumatic stress disorder—even though they show all the symptoms.
---
Credits
Tayeb Al-Hafez
Director
Replikaaa
Stefan Herrmann
Writer
Tayeb Al-Hafez
Producer
Lucas Sanchez
Key Cast
Louisa Zöllkau
Key Cast
Luciano Chessa
Original Score
Marc Mahfoud
Music Master
Konstantine Khetsuriani
Editor
---
Specifications
Project Type: Short
Genres: Psycho-Social Drama, Silent
Runtime: 25 minutes 16 seconds
Completion Date: February 9, 2021
Country of Filming: Germany
Shooting Format: Digital
Film Color: Color
First-time Filmmaker: No
Student Project: No