Description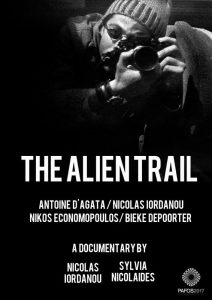 A documentary following four photographers who captured with their lens the migrant and refugee population in the Mediterranean island of Cyprus. Photographers Antoine d'Agata, Nicolas Iordanou, Bieke Depoorter and Nikos Economopoulos give their own testimony, share their experience and ethical dilemmas on how to document from their perspective, the migrant/refugee crisis.
---
Director Biography – Nicolas Iordanou, Sylvia Nicolaides
Nicolas Iordanou studied Fine Arts and Photography at Columbia College Chicago. Sylvia Nicolaides received her Bachelor's Fine Arts Degree from Chelsea College of Art and Design London and her Master's Degree in Audio-Visual Studies in the Academy of Performing Arts, in the Film and Television department (FAMU) in Prague, Czech Republic.
Nicolas and Sylvia started collaborating in 2011 and in 2012 they participated in the exhibition 'Catharsis/Rebirth' in Paphos, Cyprus and co-directed a short film presentation from it, which was selected and presented in the Louvre Museum in Paris as part of the Michelangelo Pistoletto's exhibition 'Annee Un – Le Paradis Sur Terre'. Since then they collaborated on various independent award winning film projects that were screened all over the world.
---
Director Statement
Flea Is the result of the dreams and hard work of a small crew who loves cinema in a country where there Is no facilities for filmakers in a very poor film Industry, we are very proud to present this shortfilm based on true events .
---
Nicolas Iordanou Director
Sylvia Nicolaides Director
Nicolas Iordanou Producer
Sylvia Nicolaides Producer
Antoine d'Agata Key Cast
Nicolas Iordanou Key Cast
Bieke Depoorter Key Cast
Nikos Economopoulos Key Cast
Emilia Strovolidou Key Cast
Tony Anderson Music
Moby Music
Nicolas Iordanou Director of Photography
---
Director Biography – Nicolas Iordanou, Sylv
Film Type: Documentary, Short
Runtime: 20 minutes 20 seconds
Completion Date: January 20, 2018
Production Budget: 5,000 USD
Country of Origin: Cyprus
Country of Filming: Cyprus, Greece
Film Language: English, Modern Greek (1453-)
Shooting Format: Digital HD
Aspect Ratio: 16:9
Film Color: Color
First-time Filmmaker: No
Student Project: No