Description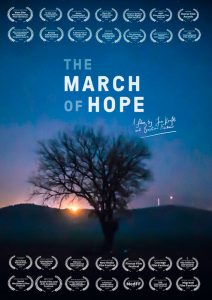 A road movie on Human Rights….
Inverting the parameters of what a road movie should be, "The March of Hope", tackles the plight of refugees from the most unlikely perspective: a little yellow van.
Two friends set out in the hope of learning first hand about the lives of refugees in Europe. During filming the "Refugee Crisis" would reach its apotheosis as the EU-Turkey Pact is agreed and the "Balkan Route" is closed.
The documentary is a deeply personal perspective on the subject of human rights, and challenges the thresholds of how a humanitarian crisis can be tackled in film.
"The March of Hope" is a celebration of everything which makes us a human, and a stinging rebuke in film to the xenophobia growing in Europe.
---
Director Biography – Jim Kroft & Bastian Fischer

Jim Kroft is a British director and musician living in Berlin. His work is an exploration of the world, its people and and what unites us all. His music has been released on EMI and his "Boat for Sara" campaign fundraised an SAR boat for refugees. Jim's short films have been published in "Die Zeit" and used by the ECCHR in humanitarian legal cases. He is currently editing a new documentary on the rise of "Populism" in America.
Bastian Fischer is a German filmmaker and photographer who grew up in South Africa. Educated at Royal Academy of Arts in Ghent Belgium, his film "Of Silesian Streets And German Potatoes" won the prize for Best Young Visual Artist in Belgium. In 2010 the film was awarded "Best International Biography Documentary" at the New York Independent Film Festival. Since he has worked as a freelance photographer and videographer, with a main focus on portrait and reportage. After covering the lives of refugees (publications including Greenpeace) in Europe he moved from Berlin to Athens where he is now based.
---
Director Statement
Sometimes, when the world has gone utterly mad – it takes a little yellow van, to help remember we are all human…
We have called this film "The March of Hope" because we owed it to the refugees – to our friends – to make a film not about their experience as victims – but rather to the great expression of courage and human dignity we witnessed. Moreover we wanted to make a testament to the lesson they taught us. That is that if these people can embody so many of the fundamentals of our humanity; laughter, generosity, hospitality, kindness – while undergoing the greatest challenges and pain – then surely the rest of us can too.
"The March of Hope" is about overcoming the things that divide us, and the courage to keep faith in what will forever connect us; our humanity.
Jim Kroft & Bastian Fischer Director
Tim Joppien Producer
Jim Kroft CAMERA OPERATORS
Bastian Fischer CAMERA OPERATORS
Film Type:Documentary
Genres:Human Rights, Roadmovie, Documentary
Runtime:1 hour 29 minutes 15 seconds
Completion Date:July 20, 2017
Production Budget:5,000 EUR
Country of Origin:Germany
Country of Filming:Austria, Bulgaria, Germany, Greece, Macedonia, the former Yugoslav Republic of, Serbia, Slovenia
Film Language:Arabic, English, French, Modern Greek (1453-)
Shooting Format:XAVC – Sony
Aspect Ratio:16:9
Film Color:Color
First-time Filmmaker:Yes
Student Project:No