Description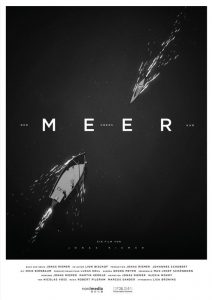 The animated documentary THE ONE WHO CROSSED THE SEA tells the story of a GDR refugee who joins the new right. In a folding boat, he flees via Denmark to Western Germany, where the story tips into the dark. His newly acquired freedom turns into disorientation. Only in a burgeoning nationalist movement does the main character find a new home. The film poses the elementary question: Where does the fear of the foreign and the desire for isolation really come from?
---
Director Biography –
Jonas Riemer
Jonas Riemer was born near Berlin in 1990 and studied animation at the Film University Babelsberg KONRAD WOLF. Since his youth he has experimented with the limits of the possible and combines elements of real film with animation. In 2012 he worked as production assistant and lead animator on the internationally successful feature film THIS AIN'T CALIFORNIA. His short film MASCARPONE was screened at over 90 international festivals (including Cannes) and was awarded 28 prizes. In 2019 Jonas Riemer realised the animated documentary film "The One Who Crossed the Sea" with the Cast&Cut grant of Nordmedia.
---
Project Title (Original Language):Der übers Meer kam
Project Type:Animation, Documentary, Short
Runtime:10 minutes 31 seconds
Completion Date:January 1, 2020
Production Budget:15,000 EUR
Country of Origin:Germany
Country of Filming:Germany
Language:German
Shooting Format:Digital
Aspect Ratio:2,35:1
Film Color:Black & White and Color
First-time Filmmaker:No
Student Project:No