Description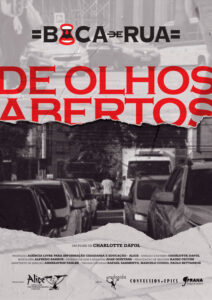 In Porto Alegre (Brazil), a group of homeless people makes and sells its own newspaper, the "Boca de Rua", the only in the world that gives a point of view from the streets about the streets. More than a source of income for its writers, it became an essential reporting channel and organization tool in the city where they live.
Today, the "Boca" is celebrating its 18th birthday. The group has grown and the society has changed, but difficulties are still there. Getting something to eat, finding somewhere to sleep, taking care of themselves and confronting urban violence, are real everyday concerns for the people who live on the streets. However, if there was only one shared idea between all the participants of the project, it would certainly be their desire not to be alone in this struggle.
And this is probably the main challenge that "Boca de Rua" has taken up: to define – and practice – a way to be really together… handling the heavy background and life story of everyone.
---
Director Biography –
Charlotte Dafol
Born in Paris in 1987, resident in Brazil since 2013, Charlotte has European blood and a South-American hart. She is as a film-director, photographer, writer and musician, depending on demand. But she is also a wine and cachaça producer (and consumer), has a Master degree in History and has worked for more than a decade in bars and street markets.
When she was still a student in Paris, she would spend her holidays and weekends making short fiction films. A few years later, in Porto Alegre and then Rio de Janeiro, she has contributed with articles, photographs and videos to alternative and independent media such as Coletivo Catarse, Agência de Notícias das Favelas and Fotoguerrilha.
"With open eyes", produced together with a group of homeless people of Porto Alegre that she has known for many years, is her first documentary feature.
---
Director Statement
I grew up in Paris and went to Brazil for the first time when I was 20. I spent the last decade of my life between Porto Alegre an Rio de Janeiro, investing most of my time in social and cultural local movements.
This film is my first documentary feature. It has been financed by crowdfunding and made in very tough conditions with a small production, but involving as much as possible its main characters – who are mainly homeless people – in the whole process.
---
---
Project Title (Original Language):De Olhos Abertos
Project Type:Documentary
Runtime:1 hour 52 minutes 40 seconds
Completion Date:February 20, 2020
Country of Origin:Brazil
Country of Filming:Brazil
Language:Portuguese
Shooting Format:Digital
Aspect Ratio:16:9
Film Color:Color
First-time Filmmaker:Yes
Student Project:No