Description
On Christmas Eve in 1944, Ania, a Polish orphan refugee and Sarah, a farm girl, discover their friend Tamati, a local Māori boy, broken and weeping at an ancestral cave in the thick forest at the base of the epic volcano, Mount Taranaki in New Zealand.
He has just learned that his father has been killed in action in Italy and yearns to call his spirit home. But to do so, he needs the others to tell stories of their own loss.
These three friends who have lost everything, on one night will become family. This night will define them forever.
---
Director Biography –
David J Strong, Wanda Lepionka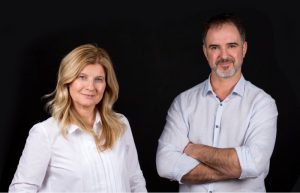 David Strong
David is a writer, director and producer from Wellington, New Zealand.
He has written and directed three short films and directed the visual elements of an award winning multimedia stage performance.
David is also a Military Advisor and has worked on many international productions including The Hobbit: The Battle of the Five Armies and the upcoming Disney feature, Mulan.
David is a member of the New Zealand Writer's Guild (NZWG).
Wanda Lepionka
Wanda is a writer, director and producer from Wellington, New Zealand.
She has written and directed a short film and a documentary, and produced three short films.
Wanda established the New Zealand Polish Film Festival in 2016, a not-for-profit annual film festival.
Wanda is a member of the New Zealand Writer's Guild (NZWG), Women in Film and Television (WIFT).
Director Statement
Maunga (Mountain) is a story about three children whose lives have been upended by war and the tragic consequences of which they have no control over. It is told through their eyes and voices, and explores how they come to terms with their grief through sharing stories and helping each other cope.
The children are from three very different cultures and experiences, and the story shows how grief is universal and transcends cultural differences.
It is a story inspired by true events and is an allegory for the world today, particularly how we approach the global refugee crisis, population shifts and radicalism. It has universal resonance and asks questions of how we all view ourselves, our neighbours and the universal values as a human race.
The story celebrates New Zealand's values of tolerance, cultural diversity and inclusivity, and how this brings strength to our identity.
David, as a United Nations peacekeeper, has witnessed the worst of human intolerance and violence on families and societies, and on children. Wanda, as the daughter of WWII Polish child refugees, has grown up with the powerful themes of this film. Together, we bring this understanding to a humanistic story-telling approach.
---
Director
The Last Night, Pacific Dreams
Director
The Last Night, Pacific Dreams
---
Project Type:Short
Runtime:15 minutes
Completion Date:September 6, 2019
Production Budget:20,000 USD
Country of Origin:New Zealand
Country of Filming:New Zealand
Language:English, Maori, Polish
Shooting Format:Digital, Arri Alexa, 4K
Aspect Ratio:2.35:1
Film Color:Color
First-time Filmmaker:No
Student Project:No