Description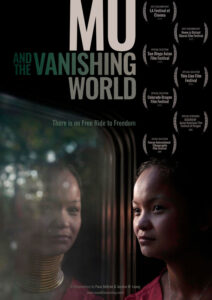 Ever since fleeing Myanmar as a child, Mu, a young Kayan woman, lives confined as a refugee and tourist attraction in Thailand. Soon after she becomes a single teenage mother, the U.N. initiates a resettlement plan for the refugee camps along the Thai-Burma border which creates an opportunity for potentially tens of thousands of people to start new lives in the USA.
Determined to pursue freedom for herself and her baby, Mu ruptures ties with her traditional mother, her culture and tribe to fulfill the requirements of the rigorous vetting process. Once she finally arrives in America, her romanticized ideas are challenged by the reality that unfolds. As Mu fights to adapt, she begins to wonder where her world truly lies.
---
Director Biography – Paco Beltrán, Jessica W. Leung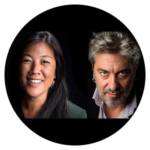 Paco Beltrán (Barcelona, Spain) has an extensive artistic background in visual and scenic arts across diverse mediums ranging from photography, lighting design, to writing theater plays and participating in Zero Gravity Art and Science projects in Russia. He has traveled the globe working with experimental artists such as Marcel·lí Antúnez Roca, Albert Vidal, Simona Levi and Roger Bernat.
In 2006 he created DosVelas Pictures in collaboration with Jessica W. Leung and combined his technical experience with the creative in his directing work on music videos and both independent and commissioned documentary projects.
Jessica W. Leung (Los Angeles, USA) has over two decades of production experience primarily in tv and film produced in the U.S. and China, where she worked with IMAX and independent film co-productions. In the U.S. she participated in numerous studio productions in Los Angeles and Austin with HBO, Paramount Studios, Warner Bros. and Disney Pictures.
Since 2001, Barcelona has been her primary base, where she has produced and directed independent video projects in support of artists, immigrants and people on the sidelines to promote more visceral connections and understanding of alternative perspectives.
---
Director Statement
The internal conflict in Myanmar has been constant since gaining independence from the British after WWII. The country is home to many ethnic nationalities the largest of which are the Burmese who have governed through a military junta for six decades. Groups such as the Kayan and the Karenni who are featured in our movie have been the victims of long term systematic persecution by the Burmese military. This has created countless Internally Displaced Persons and forced hundreds of thousands of citizens to flee into neighboring countries. Myanmar is in a state of incessant civil war.
When we started production in 2008 some 150,000 people were living in nine refugee camps along the Thai-Myanmar border. Our first visit to the area coincided with the announcement by the UNHCR of a resettlement plan that would give refugees the opportunity to start a new life in other countries after may years in the camps. This was by far the biggest UN resettlement plan in the world at the time and, of all the participating countries, the US particularly was willing to accept almost anyone who wanted to go.
It was evident the plan would bring huge change to the lives of those who relocated and also to those who stayed. The decision to apply for resettlement was up to each individual and would cause families and communities to split. We quickly saw the potential this development had for becoming a story worth documenting. While at the border, we got to know Mu and her tribe, the Kayan, whose women are distinguished by the brass coils they wear around their necks. Despite being refugees the Kayan lived outside the camps in a traditionally constructed 'Long Neck Women' village where they could be exhibited as a tourist attraction by Thai local authorities.
Mu had no recollection of her life before becoming a refugee, she was just five years old when her family fled Myanmar. Now she had a baby boy and could see that as a single mother the options for their future were extremely limited. However, the UN announcement had given her hope and she was determined to take the opportunity to seek out a better life for herself and her son. We could foresee the personal conflict she would undergo to break with all she knew in order to resettle. In Mu we recognized a powerful, strong character capable of driving the unfolding story.
We soon became a regular feature in the village, we discovered the fascinating world of the Kayan women, beyond the sanitized version enacted for tourists, as they went about their daily routines and chatted about their concerns. We kept our camera running as events unfolded, often not knowing the content of the conversations we filmed until we had the footage translated. The importance of letting the characters speak for themselves became evident and led us to favor a natural story rhythm over the common voice-over style narrative.
Some time after Mu's application was accepted we traveled to her new hometown, Bowling Green, Kentucky. She was struggling with the adaptation process and we were able to see first hand many of the problems faced by new arrivals. Together with Mu, we developed an awareness of the endemic exploitation to which refugees from Myanmar were exposed. We were struck by the numbers: In 2010, from a total of 80,000 refugees admitted to the United States, over 20% were from Myanmar. The resettlement plan not only affected the growing community of refugees but also brought changes across the US Midwest, generating a social debate that is still ongoing and controversial today.
Mu and The Vanishing World is a universal story of one migrant and her unique circumstances. Working closely with the key elements for over 10 years has allowed us to create an intimate, personal narrative that pays tribute to the fierce spirit of human resilience in the face of adversity. Mu's story humanizes the way we look at refugees and shows that rather than being a threat, they are most often an asset to the communities in which they settle.
As nations have become more isolationist over the past decade refugees have been made scapegoats for a whole raft of problems. Politicians have apportioned blame for lack of jobs, for drug trafficking, rape and murder to persons seeking asylum. Amid the flurries of enraged political rhetoric it is easy to forget that every refugee has an individual story based on a particular set of conditions. It is by looking at the individual human being rather than the horrors they are escaping that we understand the lengths to which a person will go to regain control over their life. We feel it is important to shed light on the realities of resettled persons in America, quelling the current myths about refugees and showing that their experience is not the free ride that some people often assume.
Though centered on Mu, our movie also encompasses the broader story of the Kayan people. Theirs is the world that is vanishing as they fight a losing battle to retain a way of life on the brink of extinction. They may be taking with them a unique part of our legacy and adding to the current loss of diversity in a world that favors cultural conformity.
---
Credits
Paco Beltrán
Director
Jessica W. Leung
Director
Jessica W. Leung
Producer
Mu Hpare
Key Cast
Paco Beltrán
Writer
Mu Hpare
Writer
Jessica W. Leung
Writer
---
Specifications
Project Type: Documentary, Feature
Genres: Documentary Narrative, Cultural, Anthropolgical, Sociological
Runtime: 1 hour 26 minutes
Completion Date: February 20, 2020
Production Budget: 350,000 USD
Country of Origin: United States
Country of Filming: Myanmar, Thailand, United States
Language: English, Other
Shooting Format: digital
Aspect Ratio:16:9
Film Color: Color
First-time Filmmaker: Yes
Student Project: No