Description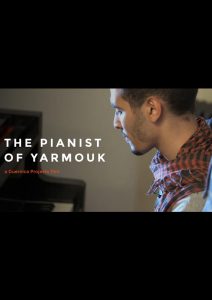 The real-life story of Aeham Ahmad: a classically-trained musician attempting to escape the war in Syria. Aeham rose to international prominence in 2014, after being filmed singing songs of peace amid the rubble of his beloved hometown of Yarmouk – a besieged Palestinian refugee camp on the outskirts of Damascus, Syria.
Surrounded by war, starvation and displacement, he sought to bring hope to the children of Yarmouk, and spread a message of friendship to the outside world. When invading fighters threatened his life, Aeham was forced to flee with his wife and children, embarking on a perilous voyage across land and sea.
This 13-minute debut documentary film by producer/director Vikram Ahluwalia combines animation, original music and interview, with performance and archive footage, to share Aeham's remarkable journey.
---
Director Biography – Vikram Ahluwalia
Vikram Ahluwalia (producer/director) is a creative consultant in the NGO sector, producing campaigns and events in support of human rights and humanitarian causes. He has curated major projects for Amnesty International, The Guardian and International Alert as well as a range of grassroots organisations. This is his first film.
---
Vikram Ahluwalia Producer
Vikram Ahluwalia Director
Elliot Manches Co-Director DAM (2007)
Daniel Murtha Lead animator Open Plan (2016)
Elliot Manches Editor DAM (2007)
Aeham Ahmad Key Cast
Film Type: Documentary
Genres: Biography, War, Music
Runtime: 12 minutes 45 seconds
Completion Date: June 16, 2017
Production Budget: 1,000 GBP
Country of Origin: United Kingdom
Country of Filming: Germany
Film Language: Arabic
Shooting Format: Digital
Aspect Ratio: 16:9
Film Color: Color
First-time Filmmaker: Yes
Student Project: No