Description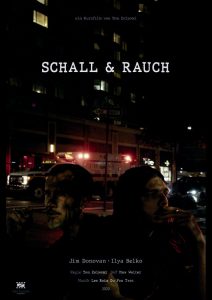 Two men getting out of a jazzbar in New York City where they played a small gig first time together. First they seem to get along, but then we see that their experiences formed a totally different view of the world.
Steven, who is around 25 Years old, has lived most of his life in Arizona after he lost his father at the attacks of 9/11.
Joe is a 50-year-old man that flee from the war in Yugoslavia and lives in NYC since then.
The worlds of these 2 men collide after they speak open for the first time.
---
Director Biography –
Tom Zolyomi
26 Year old Filmmaker from Aalen (Germany).
Previously did mostly commercial projects and eventvideography.
Director Statement
I thought why not give the racism topic an untypical twist with letting two white guys talk about it.
I don't want to glorify THE right answer to racism, but display that a lot of people don't want to get into discussion with the people they call racists. These people who are afraid of foreigners or other minorities are not born like that. They learned to hate, and we learned to hate them, which is not solving the problem of hate.
That's the point why I let the short end so abruptly. Because hating for a "good reason" is still hate.
---
---
Project Title (Original Language):Schall & Rauch
Project Type:Short
Runtime:7 minutes 10 seconds
Completion Date:May 6, 2020
Production Budget:0 USD
Country of Origin:Germany
Country of Filming:United States
Language:English, German
Shooting Format:Digital
Aspect Ratio:1:2.55
Film Color:Color
First-time Filmmaker:No
Student Project:No