Description
From the perspective of two young refugees, the short film gives insights into their new everyday life in Berlin away from their home countries and herewith their challenges and hopes.
The short film also shows the encounters between young refugees from an asylum hostel in Hohenschönhausen/Lichtenberg with youngsteres from a local youth club – and encourages a dialogue on how encounter projects for integration / inclusion with the participation of all sides can be done better.
The filmmaker Tresor Ilunga Mukuna was once himself a refugee from DR Congo in South Africa and is currently living with his family in Berlin – Germany.
---
Director Biography – Tresor Ilunga Mukuna, Dayana Dreke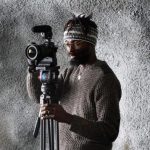 Tresor Ilunga Mukuna is an independent filmmaker, humanist and activist for social justice, passionate about powerful and inspiring visual storytelling.
His first documentary "Cape Town – Mother City?" about homeless people in Cape Town was awarded with an Honourable Mention for 'Making a Difference' at the Community Filmfestival 2011 in Toronto, Canada.
Dayana Dreke is a passionate change agent and loves empowering and connecting human beings.
She has been active in the field of child & youth empowerment in the context of peace-building for more than a decade – especially in Cape Town, South Africa – committed to bring a positive change wherever she gets involved.
Since back in her hometown Berlin, she works with young refugees which resulted in this joint documentary "Change of Perspective – my new life".
---
Director Statement
Tresor Ilunga Mukuna:
After experiencing myself a period of my life as a refugee once in South Africa, I personally know the many challenges refugees face worldwide.
End of 2015/2016, I moved to Berlin which was the time of the so-called refugees crisis in Europe and my wife (co-director of this film) started working with young refugees in her old "Kiez" Hohenschönhausen/Lichtenberg.
As we both believe in empowering people and giving them a voice, this documentary shows these braved youngsters telling their personal stories of fleeing the war and discrimination in their home countries and the challenges of their new life in Berlin.
---
Tresor Ilunga Mukuna Director Cape Town – Mother City? Catalyst 2.0 Leadership Program South Africa
Dayana Dreke Director
Tresor Ilunga Mukuna Writer Cape Town – Mother City? Catalyst 2.0 Leadership Program South Africa
Dayana Dreke Writer
Dayana Dreke Producer Cape Town – Mother City? Catalyst 2.0 Leadership Program South Africa
Tresor Ilunga Mukuna Producer Cape Town – Mother City? Catalyst 2.0 Leadership Program South Africa
Sajad Sheykhi Key Cast "as himself"
Mohammad Alshabani Key Cast "as himself"
Project Title (Original Language): Perspektivwechsel – Mein Neues Leben
Film Type: Documentary
Genres: Storytelling, reality, interviews, visual sociology
Runtime: 26 hours 40 minutes
Completion Date: March 10, 2018
Production Budget: 1,500 EUR
Country of Origin: Germany
Country of Filming: Germany, Pakistan, Syrian Arab Republic
Film Language: German
Shooting Format: Digital HD
Aspect Ratio: 16.9
Film Color: Color
First-time Filmmaker: No
Student Project: No