Description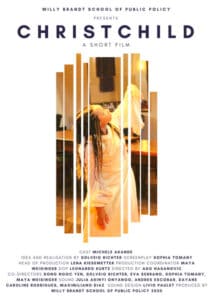 Young Aya is a black girl. But she has a dream – and she has determination. She wants to become a Christchild. In the ancient German Christmas tradition, a local girl is chosen for the role of the "Christkind" – an angelic figure who speaks at the annual Christmas Market and greets the people at Advent festivities. Aya participates in an audition, despite the skepticism of her family and the judgment of the other girls, who believe the role of a traditional christchild in German society is still 'not for her.' The short film portrays how Aya follows her path, how she prepares for the culminating moment of the big audition, and how she dreams to convince the judges that she personifies the christchild: a symbol both of a timeless celebration and of a new Germany, the Germany of Aya. Will a black girl become the "Christkind"?
---
Director Biography – Ado Hasanović, Sophia Tomany, Maya Weisinger, Eva Serrano, Dong Ngoc Yen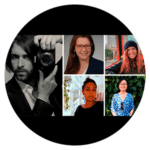 Ado Hasanovic (born in Srebrenica 1986) is a Bosnian film director based in Rome, Italy. He graduated from the Sarajevo Film Academy as a film director in 2013. He later attended the prestigious National Film School 'Centro Sperimentale di Cinematografia' in Rome, where he specialized as a film director.
Sophia Tomany was born in Germany, but she grew up in the United States. After studying in Amsterdam for three years, she moved to Germany in 2018. She has just finished a Master's in Public Policy at the Willy Brandt School with a specialization in Conflict Studies and Management.
Maya Weisinger is a US American studying in Germany. She is currently a Masters Student at the Willy Brandt School of Public Policy. She focuses on cultural policy and the role of the arts in peacebuilding.
Eva Serrano, is a Venezuelan living in Germany and currently a Masters Student of Public Policy with a specialization in Conflict Studies at the Willy Brandt School of Public Policy at the University of Erfurt. She is passionate about arts and culture and their power to transform society.
Dong Ngoc Yen is a film enthusiast from Vietnam. Being an MPP grad student in Germany with a specialization in Conflict studies, she is fascinated by the interactions and mutual impacts between conflicts and movies.
---
Director Statement
Drawing inspiration from Benigna Munsi and the disparagement she faced as the Nuremberg Christkind, Christchild explores the intersection of tradition and Germany's changing demographics. The Christkind is a real young woman who embodies an angelic figure and an ancient German Christmas tradition, but she is also a living representation of a city whose ethnic and cultural makeup is becoming increasingly diverse. In Christchild, Aya overcomes both the nervous skepticism of her mother and friends and the judgment and mockery of her fellow contestants and the judges. In some way, all of these characters harbor a belief that although Aya has been raised in Germany, some roles in German society are still 'not for her'. I believe this short film tells an important story about the anxiety over preserving tradition as the appearance of 'German' changes by showing how these tensions play out in the small scale of one young black teenager's personal experience becoming a visible symbol both of a timeless holiday and of a new Germany.
---
Credits
Ado Hasanović
Director
Sophia Tomany
Director
Maya Weisinger
Director
Eva Serrano
Director
Dong Ngoc Yen
Director
Sophia Tomany
Writer
Lena Kiesewetter
Producer
Solveig Richter
Producer
Michele Akande
Key Cast"Aya"
---
Specifications
Project Title (Original Language): CHRISTCHILD
Project Type: Short
Runtime: 8 minutes 10 seconds
Completion Date: July 31, 2020
Country of Origin: Germany
Country of Filming: Germany
Language: English, German
Shooting Format: RED
Aspect Ratio: 16:9
Film Color: Color
First-time Filmmaker: No
Student Project: Yes