Description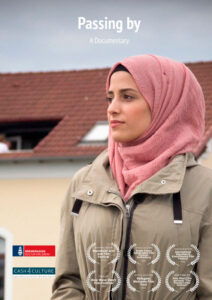 The short film is a portrait about the young woman Dima who left her home Syria five years ago due to war and destruction.
She tells us her story about arriving in Germany and starting a new life.
Since we watch the news daily we were desperate about how many humans are fighting for a better future in Europe and we did not want to ignore the fact that many of them are dying on their way or get refused.
That is why we decided to give the numbers a face and listen to their stories.
This one is Dima's.
---
Director Biography – Pheline Hanke, Duc Quang Le, Lisa Jane Albrecht, Johanna Geimer
Lisa Jane Albrecht (22) , Johanna Geimer (22), Duc Quang Le (22) and Pheline Hanke (23) are studying together Digital Media Production in Bremerhaven, Germany since 2019.
Lisa was born in Hamburg and is striving for a career in the fields of filmmaking and Communication Design.
Johanna was born in Frankfurt. She is working as a Graphic Design & Social Media Manager and is enthusiastic about photography and filmmaking. She is currently seeking challenges abroad.
Quang was born in Göttingen and is passionate about filmmaking. He loves to create stories, especially memories. Also he is looking forward to work as a full-time Filmmaker creating videos all around the world.
Pheline was born in Kassel and works part-time as a press photographer.
She is pursuing a career as a video and photo journalist and has a passion for race drones (fpv).
---
Credits
Pheline Hanke
Director
Duc Quang Le
Director
Lisa Jane Albrecht
Director
Johanna Geimer
Director
Pheline Hanke
Producer
Duc Quang Le
Producer
Lisa Jane Albrecht
Producer
Johanna Geimer
Producer
Dima Srour
Key Cast
Jutta Schmidt
Key Cast
Gisela Wiegel
Key Cast
---
Specifications
Project Title (Original Language): Flüchtige Begegnungen
Project Type: Animation, Documentary, Short, Student, Television, Web / New Media
Genres: politic, portrait, humanitarian
Runtime: 14 minutes 53 seconds
Completion Date: June 29, 2021
Production Budget: 1,000 EUR
Country of Origin: Germany
Country of Filming: Germany
Language: German
Shooting Format: Digital
Aspect Ratio: 16:9
Film Color: Color
First-time Filmmaker: Yes
Student Project: Yes – University of Applied Sciences Bremerhaven