Description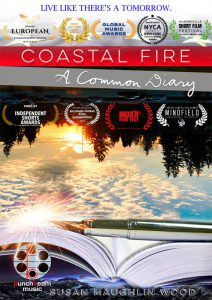 Views are my own, but I'm far from alone.
***Global Music Award winning soundtrack released on Bandcamp 11/5/19 (election day) – available at punchbeam.bandcamp.com
"Coastal Fire – A Common Diary" depicts via chamber music the emotional fallout from the 2016 US presidential election on a personal and societal level. Documentary footage and dreamlike imagery combine to capture the zeitgeist of a population teetering constantly on the edge of revulsion and resolve.
*** LIVE performance of the score available within reasonable travel distance from Seattle if given sufficient notice and compensation for 7-piece chamber orchestra
*** Self-contained <5minute segments available (see marked divisions) upon request with end credits added 1. Suspended Ceiling; 2. Pastore; 3. Towering Gilt; 4. Largo; 5. Winter Camp; 6. Fugue; and 7. Hailing, It's Mourning
*** "I love the music and film. Terrific work. Would it help to have some kind of quote from me?" – VIP music and film critic
*** "The music score is brilliant… The concept of this documentary is brave…" – Utah Film Festival and Awards
*** Features ledger artwork by Oglala Lakota artist P. Joel Pulliam
---
Director Biography –
Susan Maughlin Wood
Susan Maughlin Wood of Punchbeam Music, LLC is a composer working countercultural chamber music into film, apps, and other media. Her award-winning productions including "Spectratta" (described as Bartok meets Hanna-Barbera) and "Coastal Fire: A Common Diary" celebrate neurodiversity and social justice, spotlighting the need for emotional resilience within our shared political climate. She holds a Master of Music in Film Composition from the Pacific NW Film Scoring Program at SFI, and has served as both Past President and Vice President on the Board of the Seattle Composers Alliance. Susan has engaged as a panelist at SPU and SIFF, and has presented a film scoring multimedia lecture at Centralia College. She has created soundscapes for the story reading app Novel Effect, created electronic and acoustic interstitial music for choral concert Embracing the Journey, and continuously develops varied passion projects. website: http://www.punchbeam.com.
How loud must the alarm be? The 2016 election caught far too many of us by surprise. In my case, while wrapping up a circuit of newcomer film festival success and preparing to switch into distribution mode for "Spectratta," the night of the 2016 US presidential election was like an electromagnetic force that instantly smashed everything to the ground, leaving smoking craters where creative projects and the will to interact with the world had been. Overwhelmed with shock and grief and unable to work, I retreated into the language of chamber music to find some sense and healing. The resulting "Coastal Fire Suite" was pure music therapy and clearly the right path, but it needed to go further.
Throughout the next three years of online and (new to me) street activism, I collected footage from my travels and imagery from my nightmares to bring visual form to the painful evolutionary path of our identity as a country, and our struggle to even recognize the need to find any white racial identity outside of the horrors of the supremacy structure on which it is built.
Disbelief, fear, disgust, grief, resentment, resolve and empathy are steps along a circular journey. Not quite five stages of grief… really more like seven stages of WTF. Coming up now on the next most critical election cycle of our times, I offer from the West Coast a funeral wake, a validation, a confessional and a battle hymn seeking the way forward.
---
---
Project Type:Documentary, Experimental, Music Video, Short, Other
Runtime:20 minutes 20 seconds
Country of Origin:United States
Country of Filming:United States
Film Color:Color
First-time Filmmaker:No
Student Project:No