Description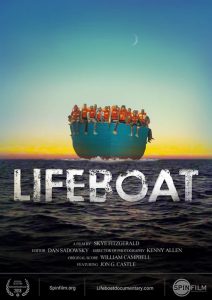 LIFEBOAT showcases the crisis of refugees desperate enough to risk their lives in rubber boats leaving Libya in the middle of the night and pushing off into the unknown, despite a high probability of drowning.
With few resources but certain that civil society must intervene, a team of global volunteers risks the waves of the Mediterranean to pluck refugees from sinking rafts.
In a political environment increasingly hostile to immigrants and refugees, documenting and showcasing the real-life predicament of those fleeing war and oppression is more vital and important than ever. In a real-life context with dire consequences, the LIFEBOAT puts a human face on one of the world's greatest contemporary, global crises and provides a spark of hope surrounding how civil society can intervene in the refugee crisis in a meaningful way.
---
Director Biography – Skye Fitzgerald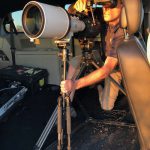 Skye Fitzgerald, DIRECTOR/DP
Skye Fitzgerald has lensed projects focused on human rights and social justice issues since 1998. He was recently inducted as an honorary member into SAMS (Syrian American Medical Society) for his work with Syrian refugees and named a Distinguished Alumnus at his alma mater, Eastern Oregon University, for his documentary work.
Since being designated a Fulbright Research Scholar to shoot and produce the film Bombhunters Fitzgerald has collaborated or received support from the Sundance Institute, the U.S. Institute of Peace, the State Department and the Paul Robeson Fund. As a Director of Photography working throughout the world*, Fitzgerald has worked as DP and Operator for Dateline NBC, VICE News, Mercy Corps, CNN, the Discovery, Travel and History Channels, Animal Planet, HGTV, ABC, CNBC, NHK, Kaiser Permanente, Providence and the Portland Trailblazers.
Fitzgerald irecently completed 101 Seconds, a film about the American gun debate and LIFEBOAT, a film documenting maritime operations off the coast of Libya. His last film, 50 Feet from Syria, focused on doctors working on the Syrian border. The film was voted onto the shortlist for an Oscar. More info at: www.SpinFilm.org.
Skye Fitzgerald Director 50 Feet from Syria, Finding Face, Bombhunters
Skye Fitzgerald Producer 50 Feet from Syria, Finding Face, Bombhunters
Kenny Allen Director of Photography 50 Feet from Syria
Dan Sadowsky Editor 50 Feet from Syria
Film Type: Documentary, Short
Genres: Human Rights
Runtime: 34 minutes
Completion Date: May 15, 2018
Production Budget: 50,000 USD
Country of Origin: United States
Country of Filming: Malta, Tunisia
Film Language: Arabic, English, German
Shooting Format: Digital
Aspect Ratio: 2.35
Film Color: Color
First-time Filmmaker: No
Student Project: No