Description
The fairytale story by Brothers Grimm interpretated in its own way by a group of refugee children age 3 to 15 from Somalia, Syria, Irac, Afghanistan and Jemen.
---
Director Biography – Stefanie Bruhn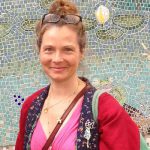 Member of European Film Academy
Costume Assistant THE GRAND BUDAPEST HOTEL
Costume Designer for 15 feature film
Costume and Stage Designer for opera, musical and theatre
Master in Fine Arts
Tailoring apprenticeship
---
Director Statement
The short film idea HÄNSEL&GRETEL – DONT LET FEAR EAT YOU was born, cause more and more right wing and fear is rising.
We as filmmakers from different countries bond against hatred and stand for a community of joy, light, love, the healing power of imagination and phantasy.
In November 2016 a treasure has fallen in my hands, who wants to come to light.
In an emergency shelter had been up to 80 refugee children based age 3 to 15, from Syria, Iraq, Afghanistan, Jemen, Bosnia, Russia, Somalia.
The children are utmost open and despite their horrible traumatic journey, full of light and wild joyful energy.
Their vibrant will to life, is as much overwhelming as the view into their deep eyes touching and full of poetic beauty.
It is important to move from "refugees" directly to young humans called Hassan, Fatima, Mohammed, Hania, Ilaf, Abufasi, Maryam, Rida, Ruwait, Nawas, Bahara and Hawa.
---
Stefanie Bruhn Director
Stefanie Bruhn Writer
Alexis von Wittgenstein Producer
Clara von Fürstenberg Producer
Fatima Akberi Key Cast
Nawas Ghanem Key Cast
Bahare Duri Key Cast
Benjamin Kirk Nielsen DOP
Peter R. Adam Editing
Niklas Melcher Original music
Malte Melcher Original music
San Charoenchai Animation and title design
Bettina Schröder Dramatic Adviser
Film Type: Feature
Runtime: 22 minutes
Completion Date: April 30, 2017
Production Budget: 10,000 EUR
Country of Origin: Germany
Country of Filming: Germany
Film Language: German
Shooting Format: Digital
Film Color: Color
First-time Filmmaker: Yes
Student Project: No