Description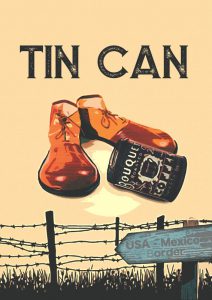 J.C. came to America as an illegal immigrant when he was just a child. Now, as an adult, he's still an illegal alien but has managed to persevere and prosper working as a rodeo clown. However, after a series of unfortunate events, J.C. finds himself down on his luck and in search for a new happiness. He eventually finds it near the Mexican border but the price he pays could get him kicked out of the only country he knows.
---
Director Biography – Pat Battistini
An award winning writer/director/editor is a native of Merrillville, Indiana. Pat began his career as an actor at the Player's Workshop of the Second City in Chicago. He continued working in improvisation and eventually performed in over 500 improv shows. Pat suffered having to work for Club Med in their Entertainment Department in places such as St. Lucia, Thailand and Tahiti. Continuing to have fun in Asia, Pat moved to Tokyo where he collaborated with an all Japanese comedy group for two years performing in the Japanese language.
Only making sense, he moved to Miami after his Tokyo gig, where he started his filmmaking career. Pat finally made his way to Los Angeles in the fall of '98.
In LA, he has written and produced eleven short films. His most recent film, "The Serene Heartache" won two Best Short Film awards. His feature screenplay, "Rebound" has also won two screenwriting categories respectively.
Pat resides in Santa Clarita with his wife Marnie and his two children, Maggie (18) and Burke (13).
Director Statement
I made this film because of the temperament and feelings toward immigration that have been fermenting in the country these past few years. Though the tale is fictitious, I hope to give the audience more to think about in regards to DACA and the people affected by it.
---
Pat Battistini Director
Pat Battistini Writer
Pat Battistini Producer
Robert Francke Producer
Carlos Ragas Producer
Carlos Ragas Key Cast "J.C./Lucky"
Kevin. E. West Key Cast "Trevor Rodgers"
Lisa Cole Key Cast "Donna Rodgers"
Tom Katsis Key Cast "Duffy"
Jef McClure Key Cast "Officer Slayden"
Darryl Sims Key Cast "Officer Kasbee"
Christopher Lee Scoles Key Cast "Officer Grizzman"
Sherry Mattson Key Cast "Kathy"
Viviana Saarvedra Key Cast "Officer Garcia"
Carlos Medecigo Key Cast "Officer Martinez"
Film Type: Short
Runtime: 20 minutes
Completion Date: May 1, 2018
Production Budget: 12,000 USD
Country of Origin: United States
Country of Filming: United States
Film Language: English, Spanish
Shooting Format: Digital/Red
Aspect Ratio: 16:9
Film Color: Color
First-time Filmmaker: No
Student Project: No