Description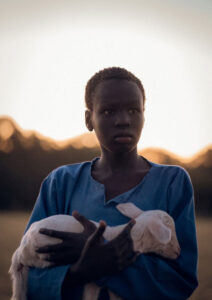 As Garang struggles on his first day at high school in Australia, memories of being lost in South Sudan are triggered. When past and present collide, Garang must find a way to bridge the gap between where he is and where he's come from.
---
Director Biography – Poppy van Oorde-Grainger
Poppy van Oorde-Grainger is a filmmaker and artist based in Australia. She first gained national recognition as the winner of the Fremantle Print Award and then later the Australia Council Kirk Robson Award. Poppy's projects have been broadcast on Nickelodeon, SBS and ABC and presented at international festivals and galleries including London International Festival of Theatre, Japan Media Arts Festival and Museum of Contemporary Art in Sydney.
---
Director Statement
Two Sands is based Kook's true story and inspired by our separate experiences of starting high school in a new country and feeling like we were lost in the wilderness.
I hope this film gives some audiences a deeper understanding of the experience of refugees from South Sudan and migrants more generally, and makes those who've moved countries themselves think "ah, this character is like me!".
Kook said "The South Sudan story in Two Sands came from my childhood, my roots. Poppy asked me to write something from my past and the story of being lost is something I'll never forget. I'm excited to have the vision of what I went through in front of me on screen, so it will make me and other people from South Sudan feel truly welcome in Australia. It's something I survived and learnt from and I want to share with people. Poppy said the story reminded her of how lost she felt when she moved to Australia so together we wrote this short film about the gap between where you are and where you're from."
---
Credits
Poppy van Oorde-Grainger
Director
Kook Manuer and Poppy van Oorde-Gainger
Writer
Lauren Brunswick and David Kucha
Producer
Garang John Deng
Key Cast
"Garang"
Tyroe Muhafadin
Key Cast
"Tyroe"
John Deng Gau
Key Cast
"Garang's Father"
Nhial Majok
Key Cast
"Police"
Atem Dau
Key Cast
"Narrator"
---
Specifications
Project Type: Short
Runtime: 7 minutes 3 seconds
Completion Date: September 14, 2020
Production Budget: 22,000 USD
Country of Origin: Australia
Country of Filming: Australia
Shooting Format: RED
Aspect Ratio: 16:9
Film Color: Color
First-time Filmmaker: No
Student Project: No