Description
The world of twelve-year-old Isaf is turned upside down when he discovers Yara hiding in his attic. Despite some initial distrust, the boy and the traumatized Syrian refugee girl become friends. Eventually, the authorities arrive and destroy any hope for a happy future together.
---
Director Biography – Sean Wirz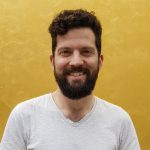 Sean Wirz lives in Bern, Switzerland and works as an independent filmmaker and producer. He studied in Australia, Zurich and New York City. Sean began his creative work in high school as a musician and composer and soon thereafter developed an interest for the technical side of the craft. He moved on to become a film director, author and producer of short and experimental films, as well as commercial and nonprofit works. 2015 marks the completion of his first feature length documentary A Song for Me, for You and the project Cross the Line, a publicly funded project, which enabled persons with physical disabilities to realize their own films. Since 2017 his black comedy Lights Out!!! and the dance short Akasha are running at film festivals worldwide.
---
Sean Wirz Director Akasha (2017), Lights Out!!! (2017)
Sean Wirz Writer
Corinne Steiner Producer Coup de Grâce (2015)
Michael Steiger Producer
Roni Tufan Key Cast "Isaf"
Mariana dos Santos Mayer Key Cast "Yara"
Roza Işık Key Cast "Delal"
Orhan Müstak Key Cast "Erdil"
Rula Badeen Key Cast "Hajar"
Project Title (Original Language):Yara
Film Type:Short
Genres:Drama
Runtime:23 minutes 10 seconds
Completion Date:July 21, 2018
Production Budget:190,000 CHF
Country of Origin:Switzerland
Country of Filming:Switzerland
Film Language:Arabic, German, Kurdish, Swiss German
Shooting Format:Arri Alexa Mini 3.2K
Aspect Ratio:1:1.85
Film Color:Color
First-time Filmmaker:Yes
Student Project:No