Description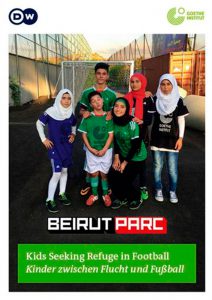 Beirut Parc, a football pitch in Lebanon's capital, a focal point of the global refugee crisis. Here, child refugees from Syria meet kids from Lebanon and Palestine, children who are refugees themselves and only know their homeland from the stories they're told by their grandparents.
This film delves into the everyday life of these youngsters, people who normally live very separate lives. But for the six weeks of 'Soccer Camp Lebanon' they come together for the first time. When they play football, they forget their ordeal and their displacement and dream of a better life out in the big, wide world.
"Football is our only hope, because there is no work here, nothing!" says the 16-year-old Palestinian Adam, whose family have lived in the Shatila refugee camp in Beirut for three generations. "When we play football we forget the crisis" says the 15-year-old Rim. She fled from Syria and now lives close to the border in the Beqaa Valley in a wooden hut built by her father.
The conflicts between the Lebanese and the refugees from Palestine and Syria have reached their zenith. "The Lebanese want our money" says a Syrian. "Beirut is too small to house so many refugees. The big, rich countries have to help" replies a Lebanese.
The "Soccer Camp" is an initiative from the Goethe Institute Beirut, supported by the German Foreign Office and local partners like the David Nakhid Football Academy. The children aged between six and 16 all train for one week in Beirut, Tripoli, Saida and Beqaa.
At the end they all come together at Beirut Parc.
---
Director Biography – Matthias Frickel
---
Matthias Frickel Director
Henning Hesse Director
Dr. Herdin Wipper Producer
Film Type:Documentary
Genres:sports, education, youth
Runtime:50 minutes
Completion Date:December 22, 2016
Country of Filming:Lebanon
Film Language:English
Film Color:Color
First-time Filmmaker:No
Student Project:No