Description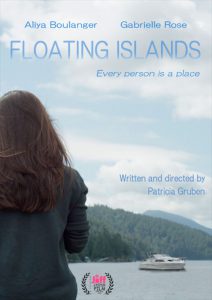 A young evangelical camp counsellor encounters two fugitives from El Salvador and must decide whether to help them.
---
Director Biography – Patricia Gruben

Patricia Gruben has written and directed two feature films (Low Visibility, Deep Sleep), several documentaries and experimental shorts (Ley Lines, Sifted Evidence), along with work in theatre and installation. Her films have screened at Films de femmes Creteil, TIFF, VIFF, Edinburgh, Sundance, the New York Film Festival and many others. She has recently concluded a career of teaching film production, film studies and screenwriting at Simon Fraser University, and continues as director of Praxis Centre for Screenwriters in conjunction with the Whistler Film Festival. She was born in Chicago, grew up in Texas, and now lives in Vancouver, Canada.
---
Director Statement
Floating Islands was conceived in the winter of 2017-18 and shot the following June. While in some ways it is a response to the migrant crisis that has been in the news, it also addresses themes that go back to my 1982 film Sifted Evidence: the struggle to understand another culture, and the impact of spirituality in our lives. Several of my other films — Low Visibility, Ley Lines and Deep Sleep in particular — are variations on these themes. This comes to some degree from my upbringing in a Texas family deeply influenced by evangelical Christianity.
Unlike my other films, Floating Islands had a simple, open script with minimal dialogue which was developed in collaboration with the generous and talented cast and with input from the Central American refugee community. The visual design of the film and the use of 'floating' imagery through drone footage, hand-held cinematography and Steadicam were devised with the camera crew: DP Suzanne Friesen, drone operator Dave Kauffman, and steadicam operator/lighting designer Mack Callistan.
Floating Islands was shot on Gambier Island, British Columbia, Canada. The film was funded by grants from the Social Science and Humanities Research Council of Canada and the British Columbia Arts Council. The world premiere was in January 2019 at the Jaipur Film Festival
Patricia Gruben Director Sifted Evidence, Low Visibility, Deep Sleep, Ley Lines, The Central Character
Patricia Gruben Writer
Martin Gotfrit Producer The Secret Doctrine
Aliya Boulanger Key Cast "Ava"
Gabrielle Rose Key Cast "Reena" The Sweet Hereafter, Maudie, Man in the High Castle
Alexander Soto Key Cast Ondivedu, Arrow
Film Type:Short
Runtime:22 minutes 34 seconds
Completion Date:December 1, 2018
Production Budget:24,000 USD
Country of Origin:Canada
Country of Filming:Canada
Shooting Format:RED
Aspect Ratio:1.85
Film Color:Color
First-time Filmmaker:No
Student Project:No