Description
Darioush is an Iranian paperless person in Gothenburg facing his worst nightmare, as two Swedish police officers come aknocking. He barely escapes the two alien deporters, and heads towards his employer to cash out his remaining sallary. Later he needs help to work out a plan B and calls everyone in his contact list. Only one person returns his call and offers him a hand; Ali, the human traficker that served him his entry to Sweden in the first place.
The deporters are still on the look out for Darioush, and have set their minds on catching him – it has become a race against time for both parties.
Will Darioush avoid the police hands of the state and once more go into hiding, or will the state representatives finally catch up with him and send him to his certain death abroad?
---
Director Biography – Farid Zarrinbal, Harald Sandø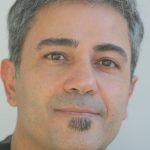 Farid was born March 21st 1969 in Teheran, Iran.
His interest for acting and movies was distinct in an early age, and he got a lead role in a TV series by the age of 13.
He later fled the country due to the Iran-Irak war (1985) and ended up in Germany before he seeked asylum in Sweden the same year. He then began a journey in 1994 that brought him to L.A. where he attended classes in Van Mar Academy Acting classes 1996 – which got him a small role in Mike Hammer TV series and also opened for his membership in SAG (Screen Actors Guild) in 1998. Almost simultaneously he appears in a Japan air line commercial with Jody Foster, and receives a small role in Solder of Fortune TV series right after.
His passion for story telling got him an entry to the New York Film Academy in the year 2000 and was graduated as a film director.
Farid had a butcher's degree in his back pocket all the time and has always worked sporadically as a butcher, cause life happens in between all and the rent needs to be paid.
During his stay in Norway 2001-2004 he was involved in several movie projects, where he also developed his own Camera Acting Techniques, socalled CAT. His production company Sugarain Film Production was formed in 2001.
He shortly after moved to Sweden and managed to receive a small role in Lucas Moodysson movie Mammoth in Gothenburg. At the same time he became a father for the first time (2009).
Farid has also been a jury member for short films at the Indie film festival in Gothenburg in 2014.
As a writer, director, lead role and producer of SANCTUARY, this is his heaviest attendance, involvement and most contemporary film yet.
---
Director Statement
As I have been an asylum seeker myself, both in Germany and in Sweden during the eighties, I've eagered to tell this story for many years. I still remember the feeling of void lying taped to a thick metal plate under a truck throughout the whole of Turkey. It's the images stuck to our memory forever that forms the stories we tell forward and the way we tell them.
Being a contributor to the Swedish society of today and watching the result of the sea of refugees fleeing wars similar to the one I escaped, I became determined on telling the story of many people around the world today, suffering under "safe" conditions in the great western sanctuary.
This film has no political view point, nevertheless we (the SANCTUARY staff) think it is high tide for the politicians to refurbish their guidelines regarding treatments and case proceedings of todays so called illegal immigrants.
According to an alarming press release from the German Parliament last year in Berlin, Germany received around 1,3 Million refugees in 2015 – 500.000 of these became paperless because of registery delays, errors, and people deliberately avoiding the state registry.
A paperless person's presence, rights and values has been made transparant by our democratic society of human rights, but the consequences of our actions and the growing volume of paperless people will soon hit us all as like a thick brick wall.
---
Farid Zarrinbal Director
Harald Sandø Director Cosmetic Surgery (Dir.), Waking up (DoP), Lawyers Association – Norway (Dir.), At any cost (DoP), Biospere: (Dir.)
Farid Zarrinbal Writer
Farid Zarrinbal Producer
Halim Saghir Producer
Farid Zarrinbal Key Cast Mammoth, Soldiers of Fortune (TV-series), Mike Hammer (TV-series) and many more
Ida Karolin Johansson Key Cast Tjuvjägaren, Kall, Cannibal Fog, De Utsatta, Uti Bögda (TV-series), and many many more
Halim Saghir Key Cast
Linus Lundmark Key Cast Tilsammans vi bo (Together we liveth)
Film Type: Feature, Short
Runtime: 15 minutes
Completion Date: February 10, 2017
Production Budget: 3,000 EUR
Country of Origin: Sweden
Country of Filming: Sweden
Film Language: English, Persian, Swedish
Shooting Format: Panasonic GH4 and Sony FS7 w/slo
Film Color: Color
First-time Filmmaker: Yes
Student Project: No