Description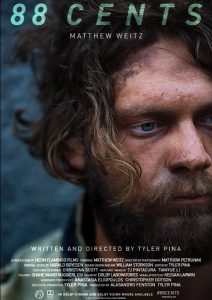 After losing five years behind bars, a man begins his new life in San Francisco, eager to find a job, a home, and a second chance.
---
Director Biography – Tyler Pina
Tyler Pina is an Emmy Award-winning filmmaker. His first short film "88 Cents" has been selected to screen at over 30 international film festivals and has received more than 40 awards, including 8 for Best Director and 3 for Best Screenplay. Tyler is also the recipient of multiple Telly and CINDY Awards for his previous music video and commercial work. More recently, he was employed as a director and producer for Vox Media, creating content for it's verticals The Verge and Recode. Tyler's videos for The Verge reach over 130 million views per month; two of which were nominated at the 2018 Northern California Area Emmy Awards. Of those, one was awarded an Emmy in the Technology category.
Director Statement
When I tilt my head up and walk down the streets of San Francisco, I see glass towers shimmering in the sunlight, luxurious penthouse lofts, and hills painted with colorful Victorian-style houses. I walk past some of the wealthiest people in the world, and then I tilt my head down.
On the same block I see beat-up tents, cardboard boxes covered in dirt, and people laying on the ground starving. We make up stories for these people and stereotype them. It allows us to feel better about ourselves as we walk past them in silence. If we avoid eye contact, it's easier to pretend they're not there. If we walk fast enough, maybe they won't ask for help.
What happens if we stop walking?
88 Cents follows a young man as he descends into homelessness after recently being released from prison. There are over seven thousand people living on the streets in San Francisco, a hundred million worldwide, and little resources available to help. This film explores the intimate challenges of homelessness, and forces the viewer to stop walking.
---
Tyler Pina Director
Tyler Pina Writer
Tyler Pina Producer
Alasandro Fenston Producer
Matthew Weitz Key Cast Early October, Currency
Matthew Petrunak Director of Photography Early October, Ristretto
William Storkson Sound Designer Lost in Translation, The Bling Ring, The Last Smile, Somewhere
Harald Boyesen Composer
Tianyue Li Hair and Makeup
TJ Pintacura Hair and Makeup
Christina Scott Costum Designer
Anastasia Eliopoulos Associate Producer The Fate of the Furious, The Bye Bye Man, Rosewood, S.W.A.T., Teen Wolf
Christopher Dotson Associate Producer
Josh Quiros1st Assistant Camera White Boy Rick, My Friend Dahmer, The Jury, Legacy
Ryan Garakouei Chief Lighting Technician Ristretto
Bill Villarreal Color by Dolby Labratories Hancock, Outbreak, Hollow Man, I Spy, Men in Black II, Die Hard with a Vengeance, What Lies Beneath, The Shadow
Rick Taylor Color by Dolby Labratories Star Wars: Episode V – The Empire Strikes Back, Indiana Jones and the Temple of Doom, Don Jon
Shane Mario Ruggieri Color by Dolby Labratories The Revenant, Nowhere Girl
Film Type: Short
Runtime: 37 minutes 30 seconds
Completion Date: January 20, 2018
Country of Origin: United States
Country of Filming: United States
Film Language: English
Shooting Format: RED
Aspect Ratio: 2.39 : 1
Film Color: Color
First-time Filmmaker: Yes
Student Project: No